The Meaning of Pansies
Finish the Verse
By Sadaf Syed
Roses are red,
violets are blue,
But I prefer a purple pansy
When I reminisce over you.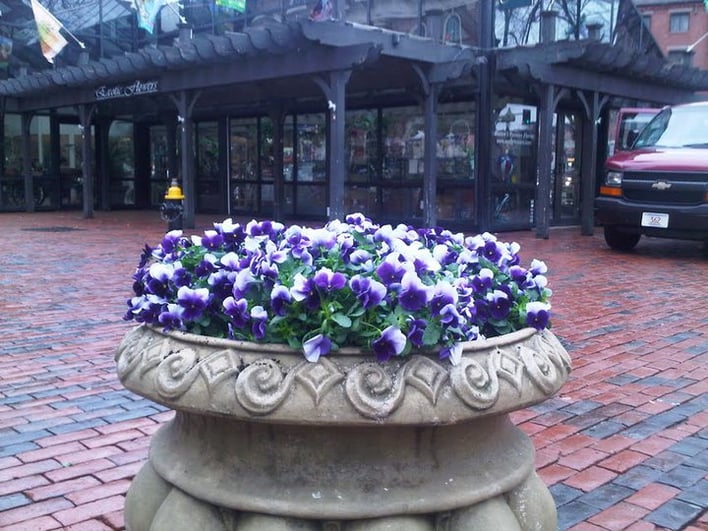 Pansies are a common flower we recognize as a sign of spring and often are used as our first featured blooms to be placed in pots and flowerbeds. Pansies have also become one of the hottest autumn plants for their durability and vibrant colors. Their ability to withstand the chill of April and October weather keeps them a hot commodity for early and late gardeners but little do many people know of their symbolic importance as well. Pansies are an interesting flower when speaking of their meaning because the options are vast including ideas of friendship, loyalty, love, passion and remembrance. Due to this wide selection of interests, pansies are sought after for funerals, weddings and even retirement parties. Here are the specific reasons why they remain so special even in today's world of fashionable flowers…
Pansies are a part of the violet family and hold a high resemblance to the shape of her parent's appearance, specifically the head shape and foliage. A recognizable difference is its "Super Sized" girth, usually tripling the girth of a typical violet. Shakespeare was a huge fan of the flower and featured the variety often in his work. Ophelia and A Mid-Summer Night's Dream were two of his most famous written works that showcased the blooms with significant importance signifying remembrance or sorrow for a loved one.
On the opposite side of the spectrum, pansies can also refer to pleasant and happy notions such as true friendship, companionship, spirituality and modesty. Depending on the color of the pansy, a warm hue of lavender or yellow usually can be interpreted with a pleasant meaning. If the petal's shade is darker, the implication could turn out to be more negative. If you are speaking about a white pansy, typically the reference is drawn to death suggesting farewell and goodbye. The wide usage of symbolism pertaining to the pansy has made this flower a popular subject for artists to paint, one of which is the famous Georgia O'Keefe who was known to have felt a strong connection to the bloom.