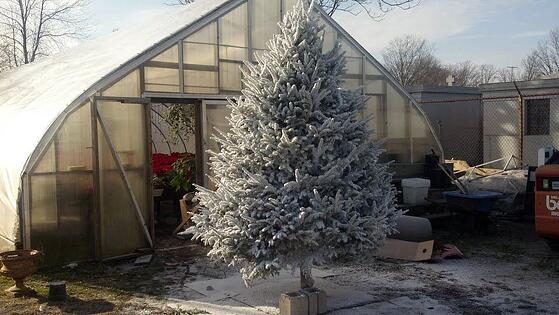 Did you ever want a Christmas Tree that looks like it should be in the White Mountains ? Snow flocked Christmas trees have been around for decades. My father has been setting up a snow flocked Christmas Tree for more than twenty five years.
At Exotic Flowers in Roslindale, we have been making pink, blue, white and even black Christmas trees for years. While incredibly popular on the west coast, snow flocked trees are only favored by few in New England. The snow flock is applied by machine that is hooked up to a garden hose. Snow flock is water based, so one must allow adequate time for drying. The process is best done in a heated enclosure to ensure the fluffiest snow look for your Christmas tree. Keep in mind, it is best to but Christmas lights with white cords if installing a white snow flocked Christmas tree.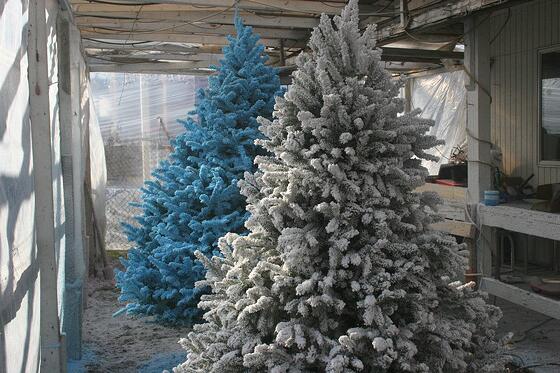 Since 1990, Exotic Flowers employee Paul Iantosca has been creating snow flocked Christmas trees for Bostonians. He offers his tips here.
Favorite Christmas Tree to Flock: Fraser Fir
Favorite Color Snow Flock: White with mica (glitter)
Do You Have A Snow Flocked Christmas Tree at Home: Yes
Your Best Tip: Have the lights put on before you flock your tree to camouflage the cords.
If you want to try a custom snow flocked Christmas tree, make sure you order early. We do deliver snow flocked Christmas trees. Keep in mind you will not be able to pick them up when it is raining. Also, if you'd like to video record your own tree, please do.