If you're into flowers and eating from farm to table, it might be a good idea to look into this interesting new event that allows you to dine in divine surroundings within blissful content. This "green" way of eating amongst friends and family is making a serious impact on both the floral and restaurant world and it's all due to the forum's wild success found in the earliest stages. With the intent to bring organic blooms and whole foods together, naturalists are calling this fabulous, contemporary feasting option the way to go in the next century. Toxins, chemicals and other contaminants have been on the news for years as likely pollutants in our soils, which is why this idea shows serious merit and might just pave the way for all future social cuisine gatherings.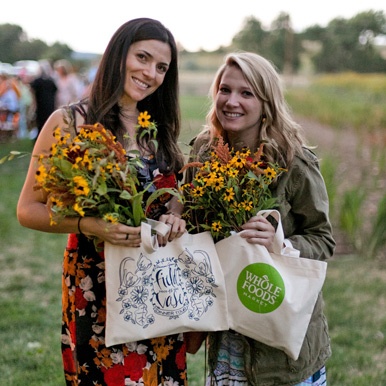 photo credit via americangrownflowers.org
Why does this work so well?
One of the reasons is because of the expertise gifted by talented florists who couple texture, color and architecture of flowers to match the servings hosted on the plates. By pairing a romantic contrast between blooms and menu offerings, guests not only receive a tasty dish of fresh and wholesome food but also get to experience the visual appeal of stunning arrangements. Depending on where the event is being hosted, people will sit amongst a table of twenty to thirty people inside greenhouses or outside on patios in the area where their servings originate. For those who enjoy local wine and beer, refreshments are also served in the same style to encourage sales of homegrown beverages as well.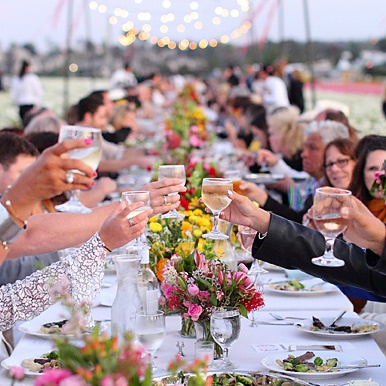 photo credit via americangrownflowers.org
What started this event?
Since a vast majority of flowers and food are now being shipped into the United States from outside countries, "Field to Vase Dinners" are working to re-focus demand on local farms and eateries such as those within Oregon, California and Texas. By hosting these dinners in places where we cultivate our own goods, the hope is to re-infuse interest in eating and growing locally owned products. Another important reason behind this movement is to encourage the health aspects of eating fresh foods. Cooked by some of the best chefs in the country, guests have a chance to taste for themselves the deliciousness of eating meals harvested from straight out of the ground while gazing upon domestically cultivated blooms. Not only does "American Grown Field to Vase Dinner Tour's" make sure everyone's bellies are full by the end of the event, gifts of flower bouquets are also presented at the end of the meal to make the experience even more special.