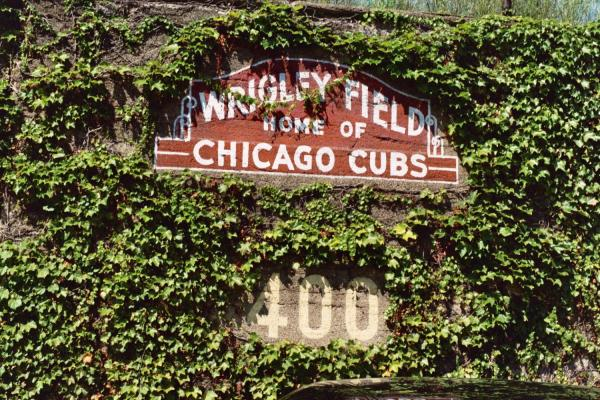 in 1937 Baseball Hall of Famer Bill Veeck planted the ivy at Wrigley Field. The idea was to create a park in the city where people felt welcome.
I think I have been a baseball fan since I was born. The game was always on tv or the radio throughout my childhood and remains that way today. My earliest major league memory comes from the 1975 World Series when Fred Lynn crashed into the wall at Fenway Park. I was four years old.
Having grown up in the flower business, I have always been in awe how flowers and plants make such a difference in people's lives. Whether sending orchids in Boston, receiving roses in Roxbury or planting hydrangeas in Hyde Park, it is amazing how much happier flowers make us all feel.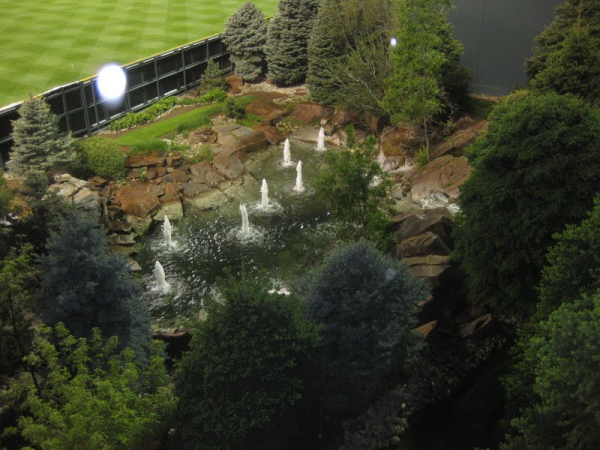 The Colorado Rockies' Coors Field has one of the most majestic treescapes as its showcase in centerfield.
Recently I read an article in greenProfit magazine, John Friel provides his insight on the importance of plants and people and our quality of life.
With some quotes from Dr. Charlie Hall and co-author Madeline W. Dixon, Friel writes " Plants mean business: 'Aesthetically-pleasing landscaping welcomes customers (and) enhances their perception of the quality of products and services. Consumers... pay higher prices, travel further and shop longer in a store that they perceive to be a quality establishment,'." This theory is most evident at the ballpark. In 1937 Bill Veeck, led by Philip Wrigley planted the ivy and trees at Wrigley Field. In 1912, author Glenn Stout tells us that the Red Sox had installed planters filled with flora and fauna to welcome fans to the new ball park in Boston. Unfortunately, the Red Sox have lost their way a bit and the park often appears cold and commercial and less welcoming one hundred years later.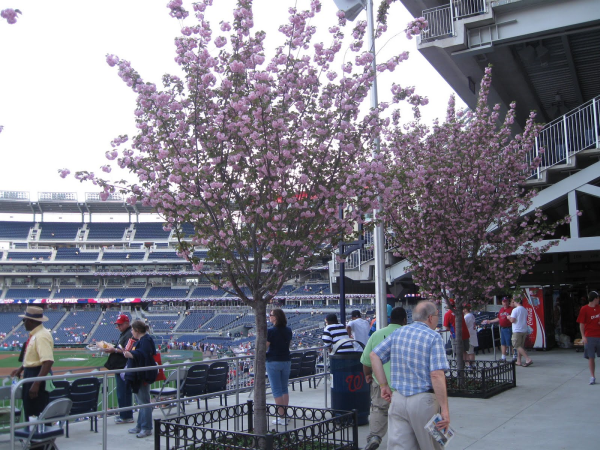 in 2008, the Washington Nationals built their new ballpark and installed cherry blossom trees in and around the park.
Friel goes on to write, "Plants love tourists: 'Parks and botanical gardens (are) effective tourist attractions... food, transportation, lodging, etc. represent additional revenue for local businesses (and) a city's economy. This revenue gets filtered back into the economy and adds to financial prosperity.' "
Who would have thought that flowers actually make money? So many people look at flowers as a luxury. "Landscaping yields, on average, a 109% return on every dollar spent." It is no mystery that new style ball parks have been created to welcome fans. Places like Camden Yards in Baltimore and PNC Park in Pittsburgh have been created to welcome fans. While concrete and steel stadiums like Veterans Stadium and Riverfront Stadium have been torn down.
photo credit Flowers and Fancies, Baltimore, MD.
The Orioles, Red Sox, Reds, Twins and Yankees have all been known to celebrate their opening days and World Series with flowers. Of course, some teams see the importance more than others. The Yankees have been know to have hundreds of floral arrangements throughout their stadium during the World Series. My pal Eddie Wingrat of Flowers & Fancies in Baltimore has been creating the opening day flowers at Camden Yards for more than twenty years. See the spectacular arrangements he created in the above photo for 2013.