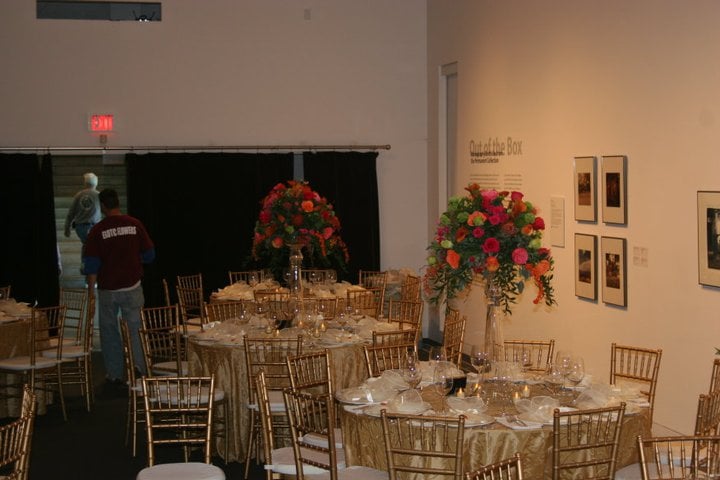 "
"Pay close attention to where you are walking." I uttered these words shortly before I dropped a full case of glass hurricanes and pillar candles while setting up flowers for Exotic Flowers at the Decordova Museum in Lincoln, MA.
Sunday October 10th, 2010 - was one of the busier wedding days of the year. First, Columbus Day Weekend is always a busy wedding weekend. Second, many brides and grooms sought the 10-10-10 wedding date for its cosmic connection.
Exotic Flowers of Roslindale was on the grounds of the legendary Decordova Museum and Sculpture Garden. When setting a wedding at any type of museum, there are lots more rules than a function hall. For example, no rose petals. Bring a vacuum, stay so many feet or inches away from the displays and above all do not spill any water and do not break anything.
The Exotic Flowers staff and I, had the honor of working with Jessica Kriley of the Decordova. Jessica is friendly, professional, efficient and truly welcomed us into her arena. La Fete Catering of Natick was the chosen caterer. What a truly inspirational showcase that Amy Colombi and the crew delivered.
The fun part happened when I dropped the case of glass and smashed three hurricane lanterns right on the dining room floor and I sliced my ring finger wide open. Thankfully we always bring extra vases and band aids along with us for any event. The Exotic Flowers events kit not only includes, bandaids, but tape, matches, ribbon, scissors, pins, business cards and even a sewing kit. Sewing kit ? Sure, we have had to help with last minute tailoring for guests and wedding party members.
My advice to anyone planning flowers for an event.
arrive early
bring extra flowers
bring extra vases
pack a Flower Event tool kit
bring a camera (see above)
if someone has to bleed, make sure it is you.