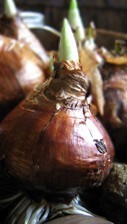 Quickly usurping the prevalence of the Christmas Poinsettia, forced bulbs are becoming a holiday staple. Amaryllis and Narcissus bulbs are not only easy to grow, but affordable. At Exotic Flowers in Faneuil Hall, an Amaryllis or Paper White Kit which includes a container and soil can be purchased for $9.95. Our Boston greenhouse also offers individual paper white bulbs at $1.25 each.
An Amaryllis bulb arrives in its infant form somewhat resembling a large onion with straggly roots. The process of getting an Amaryllis bulb to bloom is quite simple. The bulb should be nestled in a container of potting soil about one inch bigger than the bulb. Choose a decorative container as transplanting at a later date may prove a challenge.
Ideally, your soil should be sand based for support and fast drainage. Amaryllis can easily suffer root rot if they sit in a muddy soil. When planting your Amaryllis bulb, spread out the roots and leave about one third of the bulb above the soil line.
Water thoroughly upon the initial planting, but do not water again until the bulb begins to shows signs of growth; then water sparingly. Remember, do not drown this bulb. Traditional Amaryllis varieties mature in about three to six weeks. Plan accordingly for your December decor. Amaryllis kits and bulbs are also great holiday gifts for both children and adults.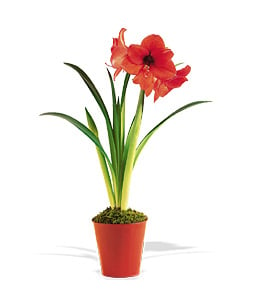 Narcissus, also known as Paper Whites are even easier to grow than Amaryllis. Narcissus can be forced in soil or water. Narcissus bloom rather quickly. Because of their affordability ($1.25 each), Exotic Flowers in Boston suggests planting several at different intervals.
If planting in soil, Exotic Flowers' growers suggest following the same procedure as growing Amaryllis bulbs. If planting in water, the greenhouse staff at Exotic Flowers suggests pouring sea glass, pebbles or marbles in a clear glass container. Place the paper white bulbs closely together for support with the root ball facing down. The bulb roots should barely touch the water. If the roots submerge in the water, the bulb will rot. Additional water should not be poured over the bulbs or they will rot. Significant growth can be expected in less than two weeks.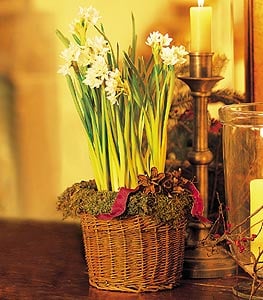 If you do not have a green thumb or the desire to try. Both Exotic Flowers in Boston and Roslindale will be offering pre-planted Amaryllis and Narcissus for your apartment, house or office.