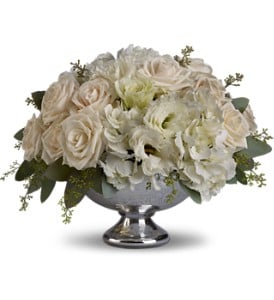 Hanukkah, also known as the Festival of Lights, celebrates the victory of the Jews over Greek persecution. When the Maccabees, the leaders of the war against the Syrians, reclaimed the Temple, they only had one flask of oil to light their candle lit Menorah. Miraculously the Menorah stayed lit for eight days - thus the eight days of Hanukkah, which begin on the 25th day of the Hebrew month of Kislev. In 2010, Hanukkah begins on December 1st.
In partnership with the Society of American Florists and www.aboutflowers.com - Exotic Flowers in Boston is honored to present some flower decorating ideas for Hanukkah.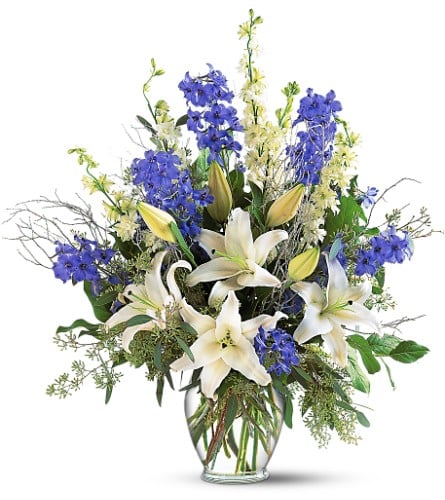 Ask the staff at Exotic Flowers to design a festive arrangement featuring flowers in the traditional Hanukkah blue and white or in all white - perfect for a centerpiece or to greet guests on a table in the foyer.

Use fresh evergreens to decorate around the menorah. Place colorful dreidels and chocolate coins around the table for kids to enjoy.

If you are having an open house is and many persons will be in a room, it is important to give special attention to the larger display areas such as the front door, foyer, mantle, buffet or serving areas, powder rooms, windows and staircase. This decorating tactic will help you get maximum impact because with many people in a room smaller arrangements placed around will not be seen at all times. By focusing on a few focal areas in each room, more space is made for glasses, cups and food plates and there is less chance of an accident.

As guests leave, have a vase of loose flowers by the door and invite them to take one home as a gift.

For an elegant celebration, take advantage of all places where candles could be displayed:

Line a walkway with votive candles in luminaries leading up to a door.

Place garland on the mantle with fresh flowers and candles to beautifully grace your room and make the most of light by enhancing the fire.

Float candles and flowers in treasured crystal or silver bowls to create a fabulous effect.

Place scented candles with fresh blossoms in each powder room.

Ask Exotic Flowers about Hanukkah Flower Decorating and Entertaining Ideas.