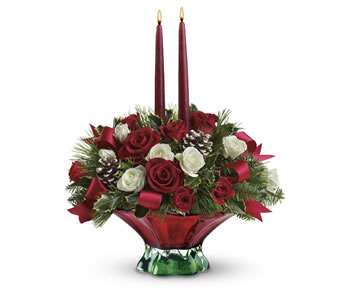 Yes, I know it's July. The weather is great and I do not wish to remind us how bad the winter of 2011 was. At Exotic Flowers in Boston, we are already accepting Christmas items and designing our holiday ads and direct mail pieces. Our goal at Exotic Flowers in Boston is to be a special part of your Christmas for 2011. Leading off is our Colors of Christmas Centerpiece. The design of this floral arrangement is sure to bring star power to the table. The highlights of this arrangement include a hand-blown glass bowl, festive colors, elegant curves and our very own ecuadorean roses. Not only can Exotic Flowers send all our items throughout the Boston area, but we can also send these Christmas flowers throughout North America.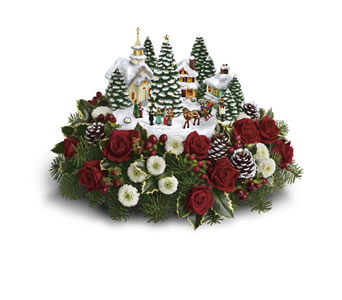 Our perennial holiday best seller is back again at Exotic Flowers in Boston. Partnering again with the Artist of Light via Teleflora; Exotic Flowers unveils Thomas Kinkade's Christmas Carolers Bouquet. Highlights of this Kinkade keepsake include our ecuadorean spray roses. Batteries are included. This Kinkade village plays the Christmas carol "Deck the Halls" and also lights up. Exotic Flowers now ignites your senses with sight, scent, touch and sound with this stunning Christmas gift.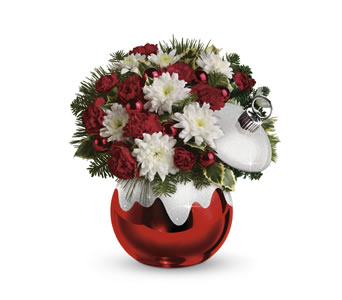 Keeping in partnership with Christmas' stars; Exotic Flowers has once again partnered with Radko via Teleflora. Exotic Flowers is adding another keepsake ornament jar for your collection known as The Glitter and Shine Ornament, Celebrations by Radko. This Christmas gift will likely sell out again in 2011.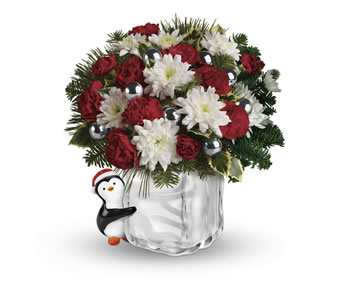 Remember Woody Woodpecker ? This bouquet hugger looks a lot like Chilly Willie. Known as the Send a Hug Penguin, this cute design is a surefire smile for all recipients. When you cannot give a hug, send a hug.
Christmas is such an important holiday. Start your own tradition in 2011 with flowers.