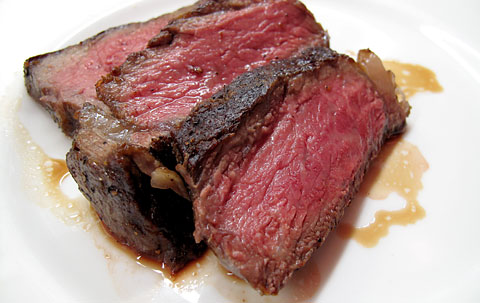 Red wine, beautiful flowers and great red meat are some of my favorite things. When you can combine all three, you will not only have a memorable meal, but you will ignite all your senses. Let me walk you through a memorable meal that I recently enjoyed at The Capital Grille in Chestnut Hill, Massachusetts. While you savor this meal, remember the key to a Great meal is company and decor as well. No meal would be complete without a flowers in the room or on the table.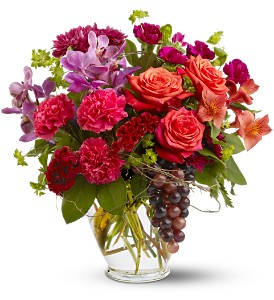 For starters, a 2009 Byron Pinot Noir was poured to accompany my assortment of warm bread and focaccia. The dominant themes are dark berries, cherries, rose petal, red plum, brown spice and smoke. A great starter with an explosion of flavor.
To accompany my blue cheese and bacon wedge salad; a 2003 Freemark Abbey Cabernet Bosche was chosen. This wine has an intense, deep ruby color. Dark fruit aromas of blackberry, plum, black cherry, and currant. Bright fruit aromas mingled with sweet oak, dark chocolate, slight clove, cinnamon, and black pepper. A nice match with the flavors of blue cheese and bacon. Not quite the Byron, but enjoyable.
My next course featured medium rare Filet Mignon topped with lump crab meat accompanied by mashed potatoes and creamed spinach. For this decadent entree, a 2006 Chalk Hill Estate 2006 Cabernet was chosen. Wow this was a winner. Everything you'd want in a Cabernet.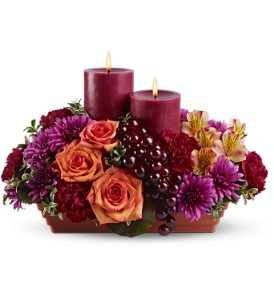 Throughout this meal, candles flickered in the twilight. Aromas wafted from the kitchen. Rose petals decorated the table as a tower of sunflowers loomed over room divider. With an incredibly satisifying meal, our waiter insisted on us experiencing the RL Buller Portly Gentleman Port to go along with a complimentary berry covered creme brule. Although we were stuffed to the gills, this pairing was heavenly.
Aside from the masterpiece of desert; this meal could easily be replicated in your Boston backyard. Start with flowers and plants from Exotic Flowers (we will pick flowers that do not interfere with the aroma of your food) for your decor; steaks from the Butcher Boy in North Andover; and wines from Gary's Liquors in Chestnut Hill. Pick some great music and do not forget the candle light. Of course pick some great guests, family and friends. Invite the kids, youthful enthusiasm is infectious.