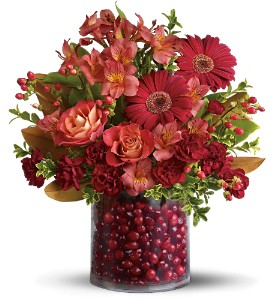 Guest blogger Jon Bornstein of Newton, Massachusetts returns to share his insight and observations on autumn in New England. Exotic Flowers of Boston is honored to have our friend Jonathan share is writing skills. We have received great feedback from his guest writing and cannot wait to share his blog posts. Not only is Jonathan enjoyable to read, but he is also an avid flower buyer at Exotic Flowers. Jonathan and his company L. Bornstein are both top clients at Exotic Flowers in Boston where they send flowers throughout the world.
Autumn In New New England
- Autumn is upon us, and with it arrives appetizing phrases like "pumpkin spice" and "apple cider". That's right, kids, the Sandwich Guy's got food on the brain as usual, and the ushering in of the fall harvest season brings the opportunity to experience home-made and fresh baked foodstuffs of every size, shape and flavor at farm stands, fairs and festivals from Westerly to Waterville. At our DNA's core resides the vestiges of our ancestor's hunter/gatherer instincts, so for goodness' sake heed their call and get out to your local orchards and farms while the weather is inviting and the festival season is in full gear.
I like my fruits and vegetables just fine, but I LOVE baked goods made with them even better. Pie, crumble, cobbler, I don't discriminate. I love'em all. Heat it up, top it off with a dollop (love that word) of whipped cream and pass me my share and yours, too. I guarantee you won't enjoy it as much as I will.
This time of year is truly magical with edible adventures. Just this past weekend my family was redirected from one of our favorite farms for apple picking (Apple Crest in Hampton, NH, anyone?) when we got word that there was a Cranberry Harvest Celebration at Tihonet Village in Wareham, MA. Rides and activities for the kids, bog tours by tractor and helicopter for the adults, and most importantly, food of every sort imaginable from food trucks, farm stands, and fair booths for the whole family.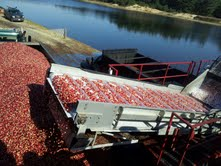 Don't get me started on the nearly two dozen vendors plying their tempting fares. Everything from kettle corn to deep fried Oreos and even a raw bar practically put me in a blissful food coma. After all, the fact that we savor our food is what separates us from the rest of the animal kingdom, am I right?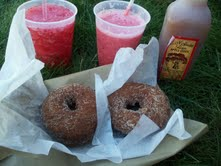 mmmmm donuts.
Ask any New Englander what their favorite time of year is, and chances are they'll come right back at you with the Fall. But don't take my word for it. Get out there and see for yourself!
Jon Bornstein
*******************************
Exotic Flowers may not sell those delicious donuts, but we do offer full line of gourmet and fruit baskets.