Ask most people about their favorite major holiday and Thanksgiving is likely to be their response two out of three times if not more. After all, what other day combines all of the wonderful elements of the December holiday season (family, food, and flowers) without the added pressure of gift shopping or seasonal decorating? ... Nuff said.
Fall is drawing to a rapid close, and so we must bid a reluctant adieu to all that amazing seasonal splendor. The year is rapidly wrapping up. Christmas lights, wreaths and poinsettias are popping up all over Boston. My friends at Exotic Flowers have even started delivering garland and holiday plants all over Boston. Holiday music is now playing on WODS 103.3FM and WROR 105.7FM. So before we get mind-numbingly bombarded with sonic good cheer, I say we use this time to look back on the year that was and reflect. And as long as I'm making up the rules as I go, I would like to turn our collective focus to one of my favorite topics – SANDWICHES !
To that end, I bring you The Sandwich Guy's 2011 Sandwich Hall of Famers. The only parameters for this year's class are two: first, the nominees being inducted must come from somewhere I ate in the last 12 months, and second, the sandwich must be comprised of ingredients inspired by the Thanksgiving holiday. After all, the only thing better than Thanksgiving dinner in my book are the sandwiches that ensue in the days that follow.
Here are my favorite turkey-centric sammys of 2011: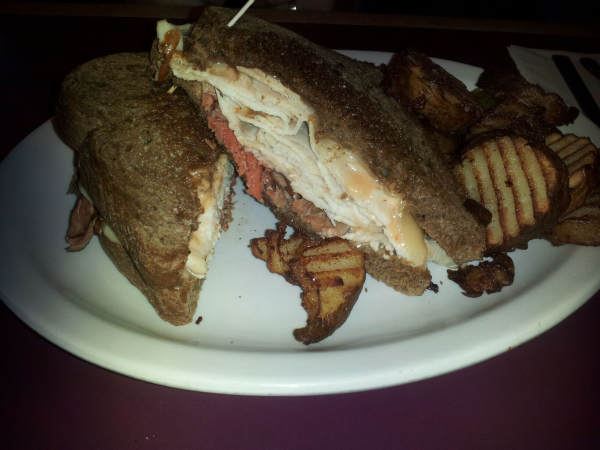 1) The Black Russian from Concord, New Hampshire's Beefside Restaurant. This place gives the concept of Surf'n'Turf a New England blue collar spin with its combination of meat oriented sandwiches and fried seafood. The results are unquestionably worth the trip, in case the packed parking lot and full dining room didn't tip you off. I recently lunched on the Black Russian, a combination of fresh cooked and tender turkey and rare roast beef served on grilled pumpernickel bread with melted swiss and russian dressing. This combo serves up all kinds of fresh flavor, nicely blending salt, tang, and a touch of crunch. And the thick sliced, ruffle-cut "french fries" were awesome, and amazingly, for something that thick, not greasy. Definitely a sandwich experience deserving of gratitude.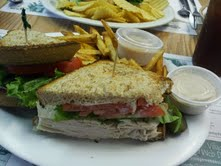 2) The turkey sandwich from Meredith, New Hampshire's own George's Diner. This unassuming spot resides in the shadow of the area's better-known Hart's Turkey Farm, but in terms of the fare, there is no contest. George's turkey sandwich uses fresh baked bread, fresh roasted turkey, and a combo of cold, crisp tomato, lettuce and sweet mayo to pack a knockout flavor punch. I stumbled across it by accident the first time, and I could think of little else lunch-wise until I got back there to confirm what my taste buds experienced. The fresh cut homemade fries deliver as well. Be sure to ask for George's special dipping sauce – a combination of mayo, horseradish sauce, ketchup and Cajun spices. A creamy and surprisingly subtle enhancement to the whole experience. Basic homemade ingredients, delicious results.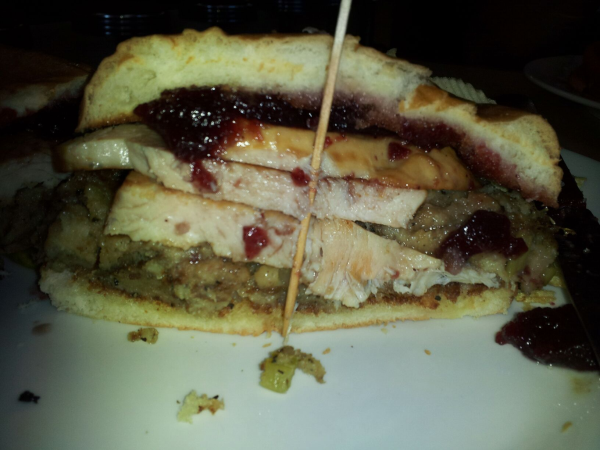 3) The Gobbler from 4 Aces Diner in Lebanon, NH. This is one of their "Specialty Sandwiches". Special, indeed. Fresh roasted turkey with cranberry sauce, stuffing, gravy and mayo on a Brioche. This is literally Thanksgiving dinner in a sandwich, and the results are comfort food heaven. The turkey is not only cooked on site, it's lightly peppered and browned/grilled on the flattop in the kitchen. The fresh brioche is grilled as well. The stuffing is homemade. The cranberry sauce and gravy are proportioned just enough to lend their flavors to the proceedings, without creating a soppy mess. It's an original twist on a classic, and the result is sandwich lover's bliss. Don't hesitate to accompany it with the seasoned homemade gravy fries with cheese. Do make sure to reserve a couch nearby afterwards for the most blissful food coma ever!
This Thanksgiving, these three all stars have given me much to wax rhapsodic about from the gratitude side of things. Happy holiday to you and yours, and let me know what makes you grateful!
Oh yeah. And would it kill you to send some nice flowers to someone special this holiday?Didn't think so. Nuff said.
Sandwich Photo Credits: Jon Bornstein
you can follow Jon at www.twitter.com/zucrow