Bougainvillea is a stunning flower which is favorite to many who have fallen in love with its cheery appearance and brightly colored petals. Considered a traditional bloom, New Englanders have long been planting this variety in and around their homes even though the original origin traces back to tropical climates. Native to the Caribbean Islands, Rio de Janeiro as well as South America, countries such as Brazil and Granada use this bloom as a symbol frequently within their culture, celebrating the beauty and charm of the species. Grown in shades of red, orange, pink, white and some variegated tri-colors, the soft and delicate "paper-like" petals have made it famous across the world. In some nations such as Guam and Granada, bougainvillea is so special that it has become the official flower where it is purposefully grown in abundance. In many of these places, you can see these flowers blooming everywhere from the side of the road to gorgeous cascades drifting across rooftops and down the walls.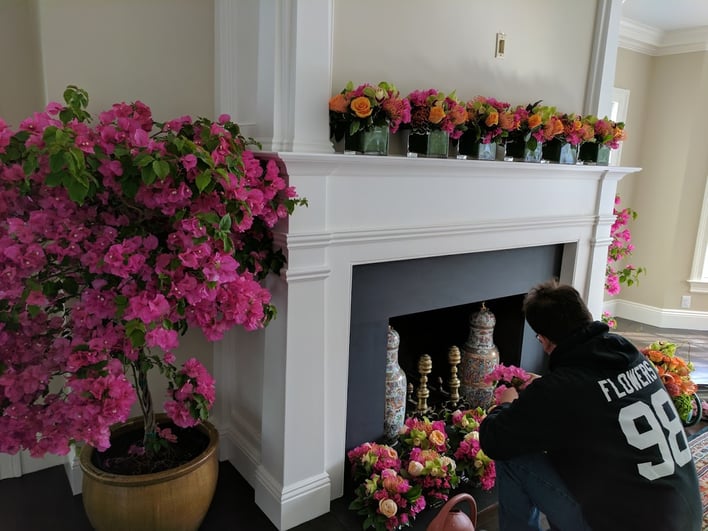 The symbolic meaning of bougainvillea changes from one area of the globe to another but the majority claims it stands for a sign of welcoming visitors and beauty. Hawaii is a prime example who sometimes exchanges the orchids used in leis with florets of bougainvillea on special occasions. In other cultures, the plant is considered a symbol of peace and an encourager of free trade between two entities. Others believe that gifting a stem to a loved one will ignite passion within the relationship.
Talking in terms of floral design, these beauties can really lift up a drab arrangement and fill it with interesting texture and hues. Although the flowers are not prone to cold winter weather here in New England, on occasion, shipments will be flown into Boston during the warmer months of the year. There is also the possibility of finding a native supplier who harvests this variety during temperate periods of the calendar. In this case, invest in buying a bundle of branches which you can take home and showcase in a tall clear vase. Other ideas on how to use bougainvillea include potting in small ceramic containers for your windowsill or transporting the plant into a hanging basket where the branches can flow freely. Either way you choose, this stunner is a perfect addition to any flower lovers collection.