Many brides don't realize this, but a wedding cake can decide the entire theme of an event depending solely on the color, shape and accents it's made with. If the cake is decorated with shells or tinted blue, it's most likely a beach motif or if the frosting is orange and black, it's probably a Halloween inspired ceremony. My point is, that it's extremely important to keep this bridal planning issue in mind when you're browsing the catalogue in the bakery. You don't want to showcase a hodge-podge collection of unspecified taste during your reception so maintain focus on one orientation and choose accordingly. Your wedding cake should be one of the first details of consideration since it will become the basis of your party platform and will guide you through the rest of the coordination process.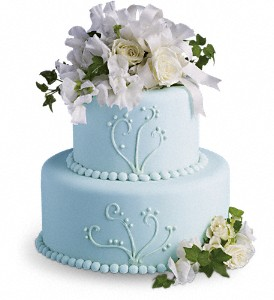 If you ask me, it's no big surprise that I favor a floral motivated decoration when it comes to bridal sweets! Not only can you add your favorite blooms to the top, sides or bottom of the cake presentation, you can also match a specific hue that you would like to be prevalent. Whether your favorite flower is the daisy, sunflower or rose, designers can work with bakers to make your sugary treat one that all your guests will remember. These are models that caught my eye and all reflect a stunning yet sophisticated dessert display supported by deliciously decadent blooms.
Succulent plants have made a huge splash in the last couple of years because of their gorgeous color, exotic appearance and resilient longevity properties. Barely needing water, these pretty little cacti are one of the most requested botanicals for interior designers and are now being asked for by Boston wedding planners as well! Succulents compliment a variety of icing tints, particularly, peach, aqua and cream and make for a wonderful centerpiece that doesn't need further props to make it pop.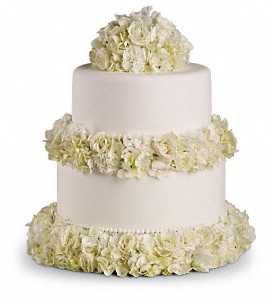 Bright and bold wedding cakes are a hit for summer and fall bridal events, specifically when shades of orange, yellow and fuchsia are thrown into the mix. You don't have to worry about matching because they contrast well with just about anything and you'll have a million varieties of blooms to choose from. Roses, gerberas, sunflowers, peonies and spring bulbs such as grape hyacinth are a few to keep in mind.
Orchids are probably my favorite plant and/or flower in existence and I can't think of anything that would dress a cake up more than adding just a few heads to the top or base. If you're looking for examples, cymbidiums, phaelenopsis and James Story orchids pack a punch of color and won't wither like other softer petaled varieties.