June has long been recognized as the month when most weddings take place in New England and now that the time is upon us, Boston brides are just days away from blissfully walking down the aisle. But there's another casted bridal character that also plans on making her special promenade, accept her job will be to fulfill the role of flower girl. This is a very exciting and important job for these little ladies and they can't wait to have their moment to shine! Often this sweet and precious part of the ceremony becomes one of the guest's favorite moments to watch so it's important to prepare your flower girl with the perfect petals to drop along the pathway. This year, favorable options extend from traditional symbolism to contemporary floral varieties, which have made it even more fun to plan and match to your particular style and taste. Whether you're going for a whimsical or classic appeal, you'll want to select the appropriate blooms for her to make a beautiful pathway down the aisle. Here are the most popular flower girl trends for wedding season 2016.
Blue's In
It's not a secret that we're seeing more and more dyed flowers hit the market so its no surprise that florists are starting to use this technique to fill flower girl baskets as well. Blue dendrobiums are both efficient and effective with producing this look since they are small and absorb color with ease. Roses are another option which hold the blue dye ink well through their petals and will hide any bruising that a white variety may be accustomed to.
Rainbow Appeal
Rainbows are making a big come back down the wedding aisles because they are an attractive presentation that's fun and festive. This spectrum of color can easily be achieved with a wide variety of different flowers, which also makes it easy for you and your florist to acquire. One possible list of potential rainbow flowered petals are red, orange, yellow, green, blue, purple and pink roses. They're readily available and wont cost you a boat load of extra wedding budget cash.
Soft and Simple Pink and White
Pink and white flower petals are a classic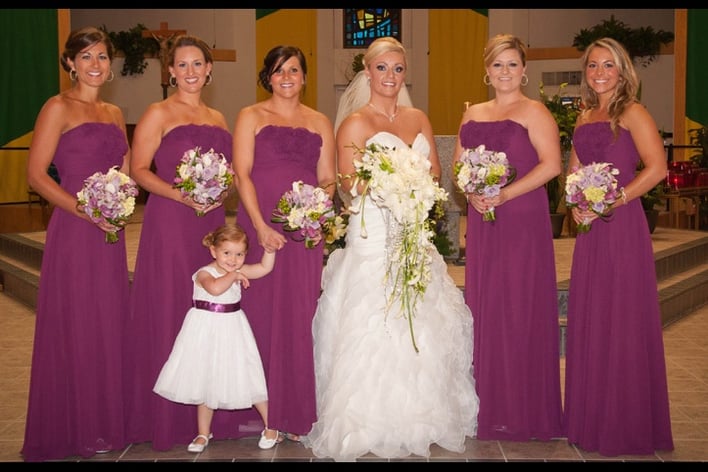 in the wedding biz because not only are they beautiful but the tones don't distract from differently designed centerpieces and bouquets. Blush pink is certainly more requested than hotter, brighter pinks but a nice compromise would be to combine the two for a soft pop of color. White basket fillers could be chosen for their size and shape such as white peonies for a larger petal as opposed to white daisies, which are smaller. If you want to accent a pure blanche tint just add a couple of petals of yellow sunflowers or orange nasturtiums to brighten things up a bit.