So we're on our third blizzard of the season and things are starting to get a tad bit boring being stuck in the house yet again. One of the hardest things to do during New England snowstorms is finding something to do so it's no wonder why most Bostonians are going stir crazy. The regular list of to-do's include baking cookies, playing board games, watching movies, popping popcorn, drink hot chocolate and engaging in an arts and crafts project. But what if we've already implemented these activities with our families in the past few weeks? What else can we find to entertain ourselves until the spring arrives to warm things up? How about putting an "artsy" spin on things by using the winter wonderland that is blossoming outside our windows to create décor for our homes? Famous artists have used this chilly season to inspire imperial pieces including Ansel Adams who focused his camera lens on breathtaking scenery. You don't have to be an expert to take great shots of a New England snowstorm. You just have to use your imagination and follow a few easy tips to snap stunning photos of your winterized backyard.
First of all, you're going to be outside in some seriously frosty conditions so bundle up with multiple layers. Once you're sure that you can bare the outdoor elements, grab a camera that you feel comfortable with and make sure there is a neck strap secured in order to make gripping and carrying the piece easier if you fall down in the snow. Before leaving your house, also make sure that the glass eye and focus lens are clean and have no smudges that might blur an otherwise perfect shot.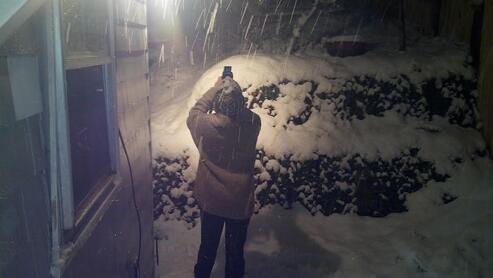 Now that you're ready to venture outside, locate a few of your favorite spots around your front, back and side yards. Successful places include areas with bushes, trees and other natural, physical features that nature has provided that would make an interesting composition. Stay away from complicated scenes that are messy when seen through the lens. Focus on simple yet stunning views that will transfer beautifully to black and white printing. Excellent examples, which become beautiful photographs can be branches swelled with layers of snow and icicles that are dropping from ledges. Please keep in mind that when you are taking pictures from below of something potentially dangerous (like a sharp icicle) stay several yards away and use your zoom feature to take a close up. Several people have been harmed by trying to snap wintery features unsafely so utilize the assets of your hardware that will allow you to capture the essence without putting yourself in harm's way.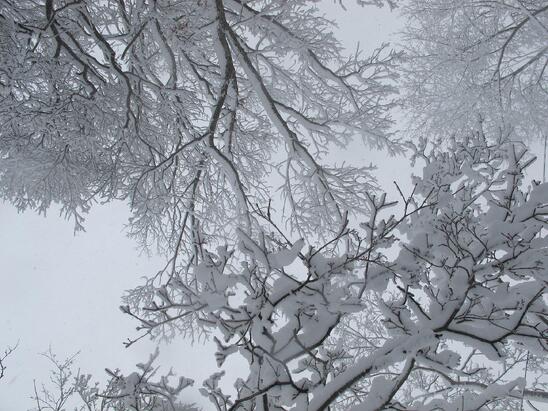 Another facet that you want to be weary of is the light factor. Stunning images of light beams can be taken by paying attention to the time of day when you decide to take pictures and the direction of the sun's rising and setting that will effect the outcome of your photographic efforts. Light streaming though branches or ray bans casting shadows over fields make beautiful prints. If you're in the middle of a storm producing little light, make sure you have your flash activated on your camera that will allow you to manufacture the appearance of sunlight within your pictures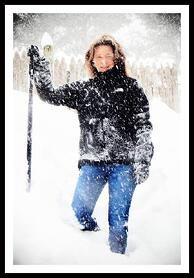 Suzie Canale, Westwood, MA Snowpocalypse 2015