While some (like myself) choose to hide underneath layers of wool and fleece during the colder months of the season, others relish in the snowy months doing whatever they can to suspend the colder days of the calendar. There is skiing, ice skating and snow shoeing to partake in the chilly outdoors while other indoor activities such as sewing, knitting or cooking appease to others. For many of the creative types wandering around New England, they see yet another way to explore the beauty and enchantment our home as to offer by tapping into to their imaginations and diving in to their love of flowers. If you find yourself in this category and adore this season's blissfully, beautiful charm, why not design arrangements that are thematic of the snow and ice we are surrounded by (probably until next spring)? Truthfully, by using specific accents and a certain variety of blooms, you'll be able to build gorgeous displays of winter inspired presentations. Here are a few tips to get you going!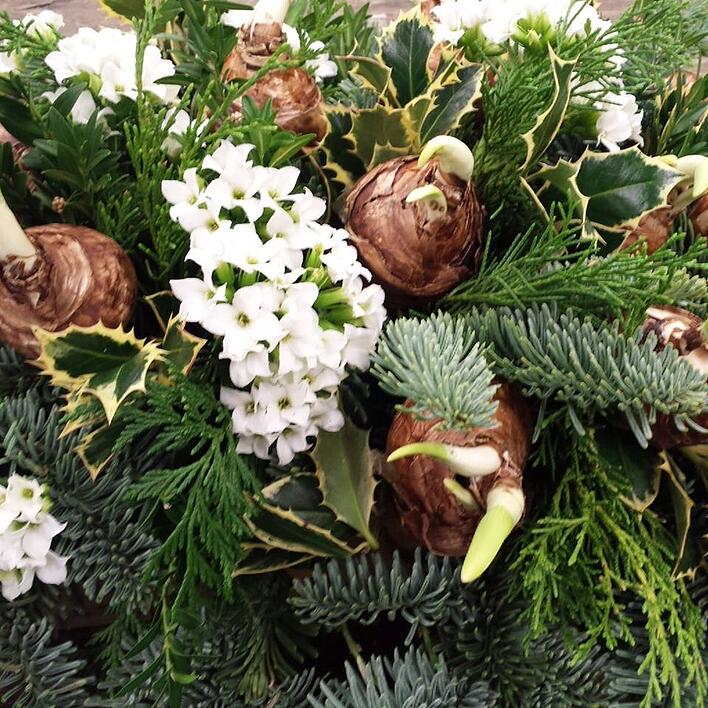 Using white flowers may be an obvious step in the process but many times people aren't aware of the large spectrum of species available to them when designing a piece representative of winter. White cymbidiums, hyacinth, anemones and peonies are excellent substitutions for more boring options of mums and roses. Implementing sparks of gray is also a great way to further push the motif like sprigs of lamb's ear, silver brunia and pussy willow. If done correctly, a mixture of these two-color tones is simply stunning and makes a perfect centerpiece for any holiday gathering. When selecting a vase, keep in mind the look you are going for such as selecting a metallic container to inspire an "ice" appearance or a frosted bubble bowl to mimic snow.
Here's another great example of using the natural beauty around us to turn an ordinary flower arrangement into a winterized bouquet. Think white birch vases that are becoming very popular and can be bought in craft stores such as AC Moore and Michaels. Adding hints of green can be a remarkable way to transform your piece into a tree-like model and if you really want to impress onlookers, add a few berries and pine to complete the conversion. Eucalyptus is another great foliage to keep in mind for these arrangements as well as mimosa greenery.
One last piece of advice is to always add flavors of blooms that you prefer over what is seen on the cover of a magazine. Many times, we get the false impression of what is available when we become sucked in by these professional images and regret not making our own rendition with what we have on hand. Winter centerpieces can be made in a variety of ways and if you keep the color palette and texture in mind, whatever you come up with is assured to be absolutely stunning.