We are midway through the winter season and some of us are starting to get a little stir crazy from being house bound but did you know that Boston has some terrific ways to beat the blues? No, it's not a cake recipe or a yet another Netflix movie but a way to get up and start utilizing Mother Nature's seasonal attributes! Finding a winter activity is one of the most important tasks to complete if you're planning on calling New England your home year round. For some it can be gliding across a frozen pond or for others, a powder-covered hill to ski down is what keeps a happy smile across their face in February. For others selecting a sport complimentary of the season can prove to be quite difficult. What can we do that requires little investment for equipment, low maintenance for planning at the last minute and doesn't insist speeding down a mountain or sheet of ice at 80 miles per hour? Well, I might just have the answer for you-snowshoeing!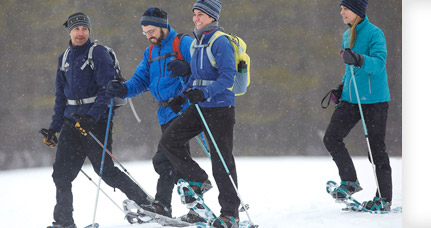 photo credit llbean.com
Yes, snowshoeing is making a giant comeback for many New England outdoor enthusiasts because it doesn't cost a lot and almost anyone in variation of physical fitness can do it! The beauty of the sport allows participants to hike through some of Boston's most stunning forestry while burning calories and heightening their endorphin levels, thus increasing a person's mood. Crystal lakes, pine matted paths and fragrant evergreen foliage are only a few of the many breathtaking scenic features that one will see when fastening a pair of snowshoes to their feet. The winter environment also may surprise you with interesting animals and birdlife that stick around our area during even the coldest weather. LL Bean carries a variety of sizes and styles and can easily be shipped to you before the springtime rolls around to warm things up. Not sure where to go once you've bought your gear? Check out these spectacular spots to enjoy your first snowshoeing experience in Boston.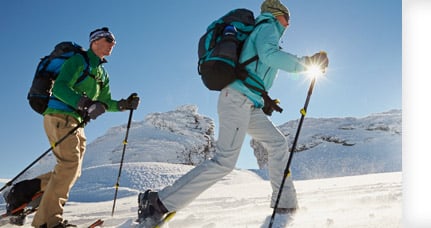 photo credit: llbean.com
Blue Hills Reservation
695 Hillside St, Milton
MA 02186
This is a great place to visit particularly if you are a beginner and want to try somewhere close to home for the first time. Conveniently located near both highways 93 and 95, you'll have no problem finding parking or a beautiful scenery as you track through the Blue Hills snow paths.
Harold Parker State Forest
305 Middleton Road
North Andover, MA 01810
This is one of my favorite places to see a picturesque view of a winterized New England. The forest contains several trails with majestic trees as well as a pond that ice fishermen enjoy during the winter months. There is no fee for snowshoeing or cross-country skiing and the park does host small parking lots around the nature area. If you like this location, you might want to check out the summer camp offered in July and August.
Suzie Canale, Westwood, MA