Who says a blizzard makes you want to just eat hot foods? What about all of the yummy desserts inspired by the New England winter season? Okay, crock-pots filled with simmering chicken noodle soup might seem nice but we can't forget to sugar up on all of the delicious sweet treats made perfect for this chill infested weather! No, I'm not just talking about stopping by the ice cream aisle before the next storm arrives. I'm talking decadent, sensational blizzard ready concoctions that will be adored by the whole family. Not only are they tasty, but they can be a fun project to make together when the house bound boredom sets in. Easy to create and simple instructions, you won't be disappointed by these festive New England indulgences.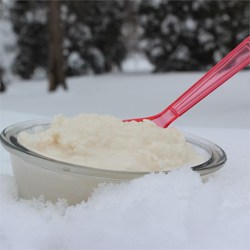 photo credit via allrecipes.com
Vanilla Snow Ice cream
This one is so fabulous because the main additive is the stuff piling up outside your door-SNOW! Have the kids go outside and grab a bucket of snow that is clean and un-dirtied by salt or soot. In a mixing bowl, combine the fresh snow with 2 teaspoons of vanilla extract, 1 cup of sugar, a half-cup of milk (or added until desired consistency) and a teaspoon of salt. Stir thoroughly until your batch resonates an ice cream body. Put in the freezer for 2 hours and serve into white or light blue bowls for an extra creative flair. You will flip over the reactions to this easy peasy ice cream recipe!
Snow-Capped Winter Cookies
This is a great one to make with your children on a snow day because the very name is thematic after the season and contains a very simple list of ingredients. Preheat your oven to 350 degrees and take out confectioners sugar, flour, salt, butter and vanilla extract. Mix together 1 cup of confectioners sugar with 1½ cups of melted butter. Add a ½ teaspoon of vanilla and 2 ¼ cups of white flour. Add a pinch of salt for seasoning. Stir together until a soft consistency gels and put in the refrigerator to chill for about a half hour. Then roll the dough into small balls placing them on a cookie sheet setting them evenly apart. Bake for 12 minutes and then sprinkle with more confectioners sugar to get a snowy effect. Let the cookies cool and store in an airtight container until serving time.
Blizzard S'more Frappes
I love this one because again, its fuss free and tastes of so delicious! All you need is 2 scoops of really good vanilla ice cream, 1 crumbled graham cracker, 1 cup of chocolate chips, 1 cup of whole milk and ½ cup of mini marshmallows. Throw everything into a blender and lightly mix until the desert resembles a white mound of blizzard delight! Serve in high ice cream flasks and sprinkle with white sugar or confectioner's sugar. Everyone will love the presentation and you'll love how little effort this desert was to make!