Our phones have become our lifelines these days, holding millions of bits of information that we believe we require each day. Just by the swipe of your finger, you can access worlds of data leading you everywhere from weather reports and sports stats to bank accounts and social media updates. The cell has really become a major (if primary) source of communication for most of us and thanks to technology, we can find answers to any imaginable question with the proper programming. Another bonus to owning one of these handy gadgets is that users can input their devices beyond basic functions and personalize them to create a unique carrier for hobbies and interests. Are you a beach goer who enjoys frequent trips to the shore but is concerned about arriving only at high tide? Guess what? There's an app for that. Do you enjoy meditation or a quick session of yoga when you have a few minutes to spare? Guess what? There's an app for that, too. No matter where your interests lie, you can be sure there's a specialized program out there just waiting to be downloaded onto your phone-even if you happen to be a flower lover like me.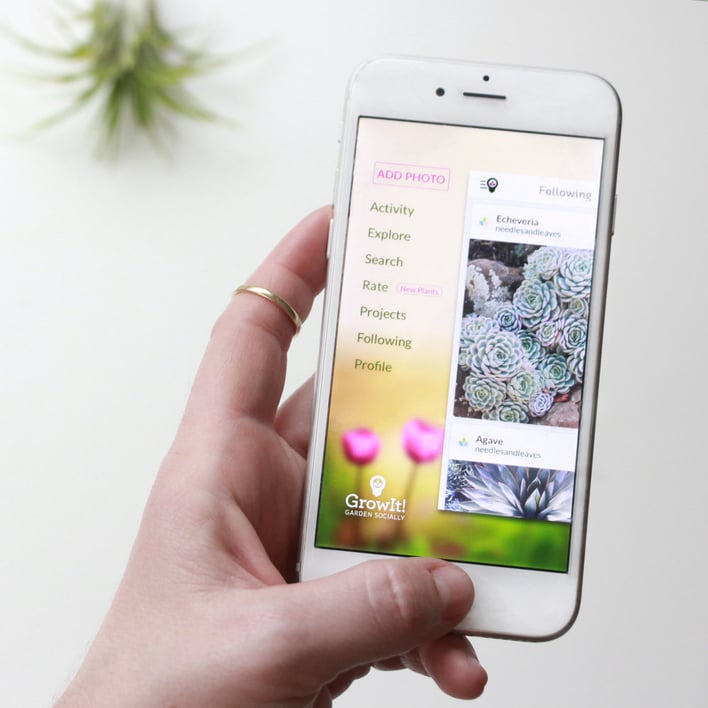 photo via growit app
Florists and flower enthusiasts will be thrilled to know that geniuses around the world have been successful in inventing several different apps made especially for us which decipher, label and distinguish flora and fauna specimens. You don't have to carry a huge manual around anymore when you've come across a blossom you don't know which family species it belongs to. Heck no! Now with a tap of your finger and a snap of a picture, you can find out all sorts of information about any flower or plant that exists. Since there are several to choose from, you can browse this list and find the one that perfectly fits your taste to help grow and nourish your knowledge. Designing ideas, centerpiece palette advice and details about where varieties are grown can all be passed down to you in thirty seconds or less. Don't be worried about extensive costs to set these up because you'll be happy to know that all of them are free!
Flower Apps
Garden Flowers Plant ID

6. What's That Flower

Garden Guide

7. Ask it to Flowers

Leaf Snap

8. Parrot Flower Power

Fungitron

9. Flower House

GrowIt!

10. Flower Garden Free