The froth spills over the side of the glass and your mouth immediately begins to water for the refreshing sip of your favorite beer. Admittedly, it's the most pleasurable moment of the entire day, the period when you can really focus on yourself for some much-needed personal reflection. It's what you look forward to and dream about during times when you need something extra to get you over life's little humps and why shouldn't you treat yourself well after all?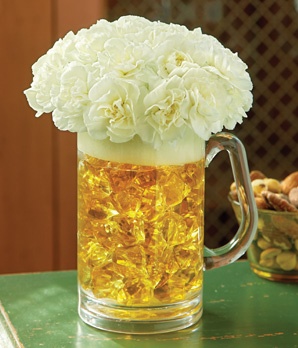 photo via fromyouflowers.com
For those who love beer, they typically adore each and every characteristic of the beverage including the smell, taste and eye appeal, which may give feelings of instant relaxation and utter satisfaction. There are even circumstances when it has been recorded that the sounds of a beer being poured into a glass can actually lower a person's blood pressure, thus acting as a therapy tool. Yes, beer enthusiasts celebrate every aspect of the hop inspired treat and are typically well versed in the extent of consuming the benefits.
If you are a beer lover who also happens to like flowers, too, you might be interested in the strong trend of filling mugs with attractive seasonal blossoms. Sound crazy? Well in all honesty, these small arrangements are really quite adorable and serve dual purposes for all purchasing customers. Not only are the bouquets relatively inexpensive (depending on the varieties used), they are also wonderful when implemented as props for sporting events, graduations and even weddings. Another reason to get on board with this popular way to display blooms is the fact that these containers are generally easy to find and low in cost unless finer substitutes of materials are desired. If simple glass is A-Okay with you, all you have to do next is insert small stems of whatever flowers you choose to make a truly beautiful yet affordable arrangement! Make them as traditional or dramatic as you wish and have fun creating the perfect floral presentation to gaze upon while you enjoy your adult beverage. If you want to authenticate the piece further, browse these species which reflect similar hues as you might compare to the drink.
Beer Inspired Flower Species
Mimosa
Brown pom-poms
Brown dahlias,
Yellow Tulips
Forsythia
Brown Gerberas
Yellow Sweet Pea
Orange James Story Orchids
Mango Callas
Brown, Yellow or Orange Roses
Yellow Freesia