The salty air is beginning to waft off our coastlines and people everywhere in New England are thrilled to be dreaming of near future visits to our gorgeous beaches. For some Bostonians, they might even be lucky to own or rent a cottage on the Cape, Maine or Rhode Island in the next few months where they will enjoy the closeness in proximity to the ocean. New England summers are a treat for us locals so we tend to accentuate the season as much as possible with barbecues, pool parties and evening get togethers on the porch. Foods such as shrimp, lobster and clams are a theme for these events but other areas of party planning are equally qualified for the same sort of inspiration-namely flower arrangements.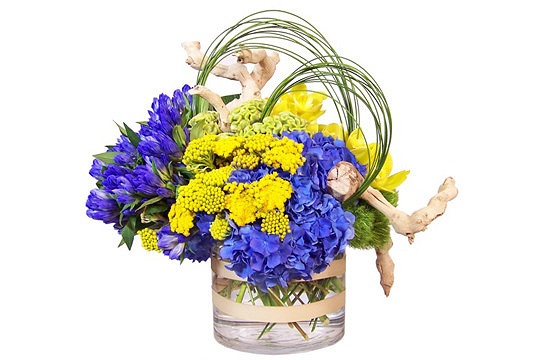 photo via aboutflowers.com
While we usually select blooms such as red berries and pine greenery for winter décor, summer time reflects a whole other field of wild blooms of a softer palette. Mimicking the motif of a beach cottage, these varieties are softer in nature with hues of pale peaches, whites, creams and blues. Top designers around the city try their best to replicate the sensation of the sea and sand within their pieces so customers will take in the "feel" of the beach even if they are remaining within their city dwellings. For me, this is my favorite time of year when blossoms represent a core attribute of peace and tranquility, especially when displayed near the oceanfront. If you are anticipating a love for summer flowers reminding you of past/present days spent on the seashore, check out these "can't miss" bouquets that envelope the meaning of beach living in New England.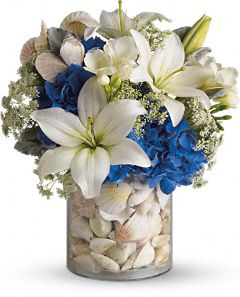 Stunning flowers to request or replicate on your own which convey a beachy feel are those that are light, airy and whimsical. This may sound like a strange description but species such as delphinium, lace flower, ranunculus, garden roses and wisteria are perfect examples of what I'm talking about. If you live by the shore, take special notice of any blooming shrubs such as hydrangea that love the salt air-they make great clipping for inserts in arrangements. Peonies are another excellent variety that goes cuckoo for a seaside habitat, particularly those that produce buds of sweet pink, cream and blush. I also like a fresh vase of stems that have been gathered from around the yard in hues of deep blues and purples. If you're planning a summer getaway to the ocean or just enjoy the notion of the idea, treat yourself to a cottage inspired arrangement which will keep you happy throughout the warmer season!