March Madness begins on March 15th with NCAA teams racing down the courts to become the number #1 college basketball team in the country! While some of you will participate office pools and placing your wagers on hopeful winners, some fans will be showing their spirit in other ways as they anxiously await the beginning of one of the most exciting sporting tournaments of the year. Have you made your plans on how you will be watching who makes it to the Final Four?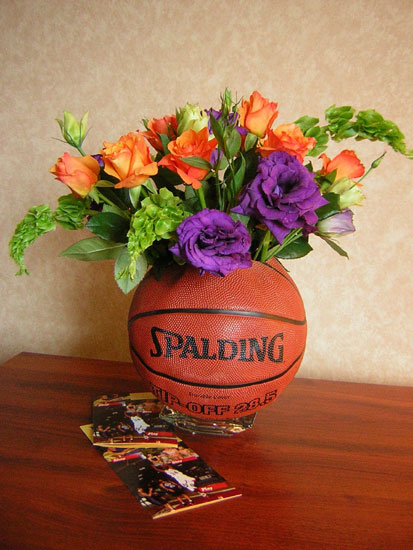 photo credit via: valentine.gr
For those of you who are planning to watch the games while having a get together, choosing the perfect decorations to accessorize your March Madness party is a top priority! Hang banners in the colors of your favorite teams, select party platters and bowls in the shape of half moon basketballs and you'll need to devise a menu that compliments the occasion such as serving nachos organized as a basketball court, basketball cupcakes or veggie platters organized in a circle of orange carrots with green peppers to form the stitches.
photo credit: petalstreet.com
If you're thinking about really going for a fantastic basketball bash, you'll need flowers of course! Many are weary towards designing pieces in reflection of this event and fret about complications or expense. Not to worry! Florists are way ahead of the game per usual and have already begun organizing innovative and fun floral ideas to match you March Madness soiree. From basketball inspired vase ware to blooms resembling key features of the sport, you'll be amazed by the brilliance of our very best Boston designers. Here's a sneak peek of some of the best March Madness bouquets available to you