It's your child's big day and you're in the heat of planning the perfect birthday celebration for twenty to thirty friends without a clue as of how to do it. Don't worry- there's an easy and fun way to create the ideal celebratory extravaganza that will fit your budget as well as put the "Wow" factor on the faces of guests. How do you start? Well, contrary to popular belief, not all parties for small children have to have a set theme. Clifford, Smurfs and My Little Pony topics can be incredibly detail oriented that can become overwhelming and impossible to afford on a tight budget. Give yourself a break and allow yourself a bit of wiggle room by opting for streamers balloons and lots and lots of flowers! Whether you have a special birthday girl or boy, use these tips to work with a local florist to create an age appropriate blooming presentation that will set the festivities off with a bang. Choose to navigate the task by implementing these tips for boys and girls or mix and match the colors any way that you want. Remember, birthday fun starts with cheery ideas and joyous accessories, so don't be afraid to use your imagination and go for it.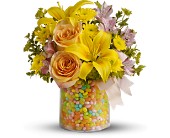 For Girls
Quite often, we associate the color pink for girls but there's other options available if you feel limited to this hue. Lavender, purple, chartreuse, peach, lime green and yellow are also feminine in nature and are stunning when two or more are arranged together. Ideal varieties may include ranunculus, hybrid delphinium, anemones, calla lilies, gerbera daisies, forsythia and tulips.You can even incorporate a jelly bean filled vase for the festivities.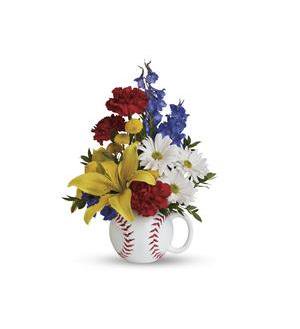 For Boys
Just because it's a boy's birthday party, it doesn't mean that you should forget the idea of using flowers as part of the décor. Many blooms can be very masculine such as delphinium, geraniums, calla lilies, orchids, roses and sunflowers. Colors that work well for this occasion include maroon, white, blue, red, green, bright yellow and orange. You can either choose one of these shades or blend together a few flavors to brighten up the room where your party is to be held. If your hesitant about this idea, grab some truck, sports balls or Lego containers (works well for girls, too) and use these as the flower holders.