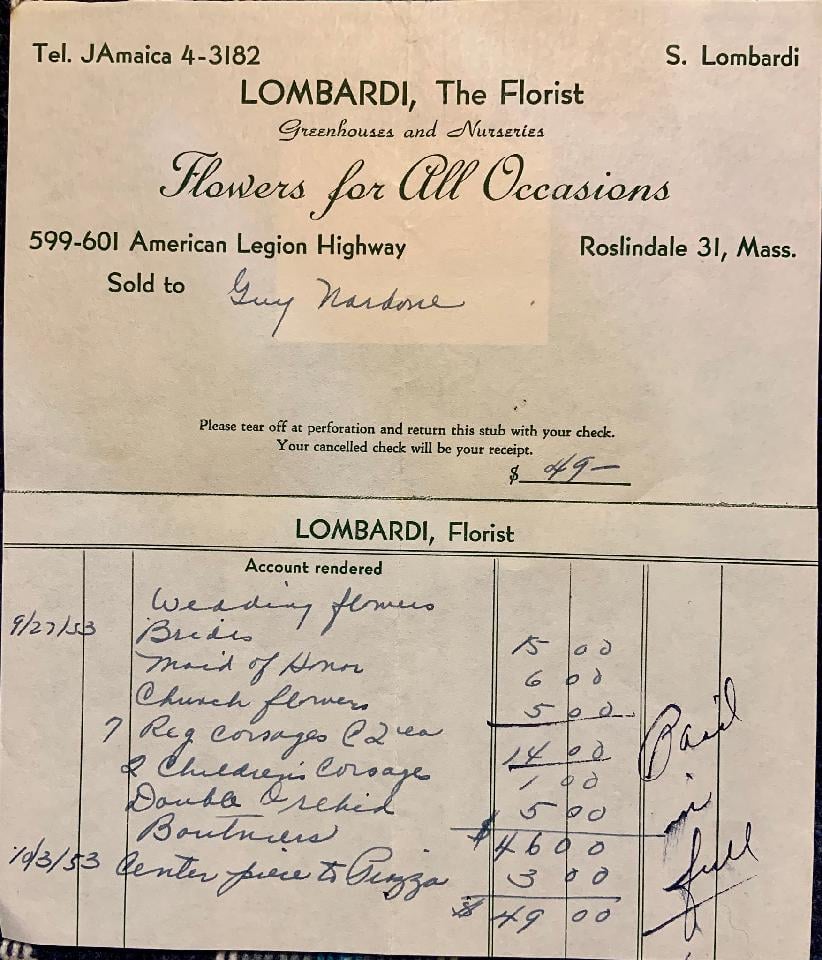 We have been a family owned and operated business since my mother's parents immigrated from Ponza, Italy in the early 1900's. We have remained in the same location as Russo's Florist at 609 American Legion Highway in Roslindale. My grandfather began by planting pansies to sell to those going to the local cemeteries.
What you may not know was Lombardi, the Florist was across the street at 599 American Legion Highway on the opposite corner. My father worked for Syl Lombardi as a kid and bought Lombardi's in 1957. In 1959, he married my mother Marie and merged the two florists into one location at 609 American Legion. Lombardi was and remains one of the busiest florists in Boston. He kept the Lombardi name and 63 years later, my parents still work at the shop every day. (ed. note; Olympia Flowers was the busiest florist at the time and remains in the same family today,).
Recently, a client, friend and former employee was given the above receipt. It shows a list of transactions from 1953. A brides bouquet for $15, a maid of honor for $6, a corsage for $5 (clients still ask for that price today!) and a center piece for $3.
While the prices may amaze all of us, what might amaze you more is clients still come in asking for bouquets for $15-$20. So when we're quick to say 'it's not 1953,' we're not kidding.
One of the greenhouses mentioned on that receipt is still standing and in operation. Right now it is filled with geraniums and ready to bring beauty into your homes.
Family owned, operated and still going.
Rick Canale, Your 3rd generation Boston Florist