So you might think that Saint Patrick's Day is all about the corn beef cabbage, beer and wearing the color green but Bostonians are learning that the upcoming holiday has much more to offer in celebratory terms! Historically, this date marks several themes including religious and regional pride for the Irish culture. But did you know that March 17th also holds tremendous significance with the celebration of seasonal changes placing importance on the new growth that arrives with warmer weather? It's true and the proof dates back to centuries ago when part of the celebration included planting the first seedlings of spring. Because of this, there is an increase of attention building on the agricultural industry for Saint Patrick's Day and lucky for us, the heightened demand for fresh cut flowers. Of course, the flowers that are requested aren't just any spring blooms that we might be carrying in our coolers this month but ones of course that emulate the theme, tradition and of course, colors of Saint Patrick's Day. Now I can tell, you are rolling your eyes and thinking, "Not another year of dyed green carnations" although we are all knowledgeable of the fact that they are one of the biggest sellers in March. No, you'll be surprised that there is a greater opportunity for florists to widen their selection of flowers for holiday bouquets and centerpieces that are both creatively designed and contemporary. Take a look at these popular blossoms and see if they fit your bill for a flower infused Saint Patrick's Day.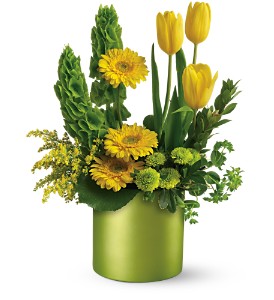 Bells of Ireland
I love Bells of Ireland because of their dynamic shade of brilliant green and the name, which couldn't get any better, for March 17th orders. Appearing with a long spike with follicles resembling bells, these stems make design easy because of their durability, low cost and longevity when used in both fresh water vases and oasis. Having the Latin name, Moluccella laevis, customers will be pleasantly surprised by the beautiful fragrance, which emanates the theme of freshness and springtime. Bells of Ireland also hold multipurpose because they can be dried by hanging upside down or replanted in gardens once there is no danger of frost or frigid cold weather.

photo credit: instagram.com/jeffleatham
Green Calla Lilies
These have got to be the most stunning presentation a Boston florist can display within their shops for this Irish holiday. Green calla lilies are both structurally interesting yet unique to most other varieties seen in our coolers during the month of March and require little fuss to design a fabulous floral piece. My favorite species is the Green Goddess that towers majestically and is easily interwoven with other flowers or perfect all by itself for a profound impression. They are available almost year round from farms in Ecuador and have become more and more affordable since growers production levels have increased. You will love how easy these beauties will make your designing efforts as well as the silk smooth texture of their gorgeous petals.
Suzie Canale
Westwood, MA