I don't know if you know this but with each changing season, it brings a whole new floral palette of design, color and contrast. Living in a busy hub such as Boston, you can only imagine the diverse transformation our florists make once the calendar flips back to the springtime months of the year. I for one am thrilled for the fresh rejuvenation of different species and varieties being used in bouquets and vase work. It's not that the hardy species we live with in the colder months such as roses, gerberas and hydrangea aren't nice but I'm sure you agree with me it's time for something different.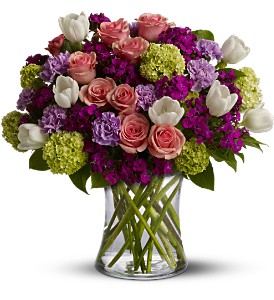 In the past, pastels have owned April, May and June as the top requested style in everything from cash and carry out to wedding bridal jobs. It's pretty easy to figure out why since ranunculus, sweet pea and hyacinth are among the top natively cultivated varieties as well as the highest imported from countries around the world. Their delicate and soft presence does mirror the slight increase of temperature and the rebirth of nature re-growing again but I've got to tell you…the theme is getting a little old.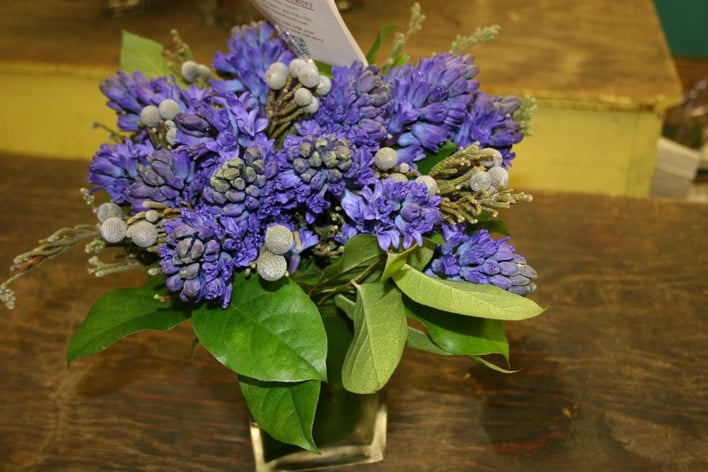 Just by taking a look around us, we can matriculate our own unique vision of flowers in springtime. Bulb plants are naturally popping up from the ground such as red tulips, yellow daffodils, blue crocus and purple grape hyacinth (my fave). We don't have to get complicated by our selection if we merely become aware of what is on hand already! Grab a pair of clippers and take a walk through your yard noticing all of the new generation the earth is accomplishing. If you have a perennial garden, you might have access to a whole other trough of goodies such as delphinium, poppies, clematis and alliums. All of these different kinds of blooms might not exactly match perfectly at first glance but when you combine them all together, you'll be amazed by the outcome. Designs do not always have to match so get a little wild and try making your own springtime bouquet based on the gifts that Mother Nature has already given us here in New England. Be bright, be bold and GO FOR IT!