So far, we've been pretty lucky in New England this winter avoiding snow storms and other undesirable weather but for many who like to keep active outdoors with sports, it's been a bit of a challenge. Without a nice blanket of snow to cover the ground, activities such as snowshoeing and cross-country skiing are out of the question. Yes, I know you can always visit a ski resort which pumps that white stuff out no matter what the temperature is but not everyone wants to pay for expensive tickets. The sky is dark, frigid and often depressing to say the least so what can we do to stay active, healthy and happy until the warmer months arrive?
PLENTY!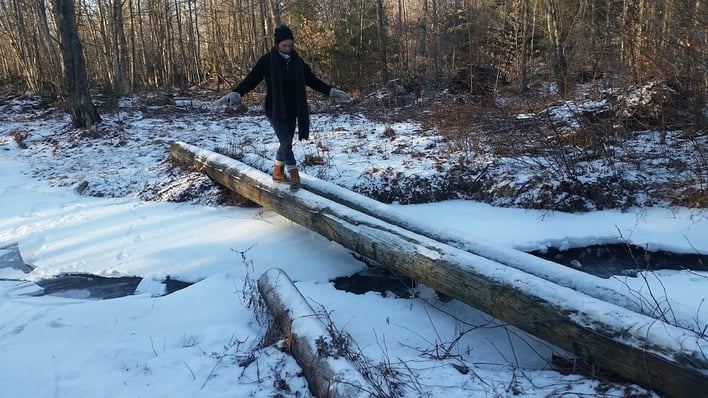 The state of your health depends on more than just the number read on your scale and demands further attention to maintain a balance for your mind, body and soul. By including some of these suggested pursuits in your weekly agendas, you'll see fast, positive changes that will support your health when the dreariness of the season gets to you!
Mind
We know that's it's important to keep our mind just as strong as our body but sometimes we forget and neglect the fact that our brains need to exercise, too! Your local library is the perfect place to begin looking for preferred material that will get your neurological thinking directed in the right place and spinning again like a well oiled machine. Read a great new novel (maybe even join a book club), check out the programs offered and start using that library card of yours! You'll find a huge assortment of material to devour plus engage within a community that possesses both literary and socializing attributes.
Body
You may not be able to stand the cold long enough to enjoy a long walk in the woods for the next few weeks but there are many movements you can do to keep yourself limber until the sun warms us up again! Five minutes of simple calisthenics everyday will get your blood flowing and you endorphins spiking, plus you can do them anywhere in your home making it hard to make excuses. Think knee bends, sit-ups or jumping jacks to get you started and don't forget a trip to the mall or grocery store can also promote healthy benefits due to all that walking you'll be doing while you shop!
Soul
Feeding your soul is a lot simpler than most people think… It can be anything that relaxes you such as attending a yoga class, enjoying a favorite hobby or even just listening to music. Don't over think this to the point where your booking flights to tropical islands because most of the time, all you need is a few minutes to take care of you.