I'll admit it. This time of year is certainly not one of my favorites and there are several reasons why…
A). I'm a warm-blooded soul who despises snow and ice.
B). Traveling becomes tricky with bad road conditions forcing us to become hermits for most of the season- another personality trait I'm missing.
C). THERE ARE NO OUTDOOR FLOWERS!!
This last one is enough to depress any blossom lover because the fact remains that there are no wild flowers looming outside in the gardens. Everything is frozen, stuck to the ground with no life signs what so ever. I miss the days of carrying bundles of stems with petals scented with pure sweetness and arranging them in vases throughout my home. Did they make my house look pretty and smell good? Absolutely, but there's more to this than mere home decorating…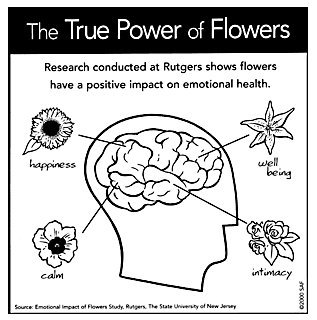 It is a scientific fact that flowers have the power to elevate our moods, particularly when we are feeling at our lowest. All of the senses play a part, including the way a flower smells, its texture, color and arrangement with other species. Our minds are positively enhanced the moment we set eyes on a bouquet and eventually we learn to connect this sensation of happiness with flowers in general. So when the weather turns chillier and we lose our stimulation from outdoor gardening and growing, we have to make a conscious effort to seek them out elsewhere. Contacting your local florist is the best way to solve this problem or you can even begin with indoor seeds such as marigolds and nasturtiums. They'll be fun to watch sprout and you'll have pretty blooms flowering through the coldest months of the year.
Scientific Facts Supporting the Psychological Benefits of Flowers
Flowers arranged in areas such as entryways and foyers are symbolic of the meaning of sharing. Guests who enter a building and are greeted by a fresh bouquet of flowers on the table react to this by feeling welcomed.
Photo credit via aboutflowers.com
Flowers open windows to creativity and often encourage a person's imagination when exposed to flowers on a regular basis. Some of our greatest artists of all time like Van Gogh surrounded him self regularly with flowers in order to find inspiration for his work.