March 17th is Saint Patrick's Day and people all over this city are getting ready to show their Irish pride! While there are sure to be events celebrated all over Boston with green beer free flowing everywhere, I think it's important to take the time to acknowledge the history behind the four leaf clover. As a floral professional, I can't tell you how many requests we receive for potted plants of clover or specialized flower arrangements with hints of the greenery slipped here and there amongst the blooms. Clovers are a huge part of the Saint Patty's Day tradition so let's do a little research to find out exactly why we go crazy over these tiny florets every March.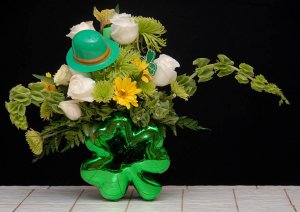 photo via Rittners School of Floral Design, Boston MA
The origin of the shamrock really does have interesting roots once you start digging since it was primarily used by Saint Patrick to introduce the religion of Christianity into Ireland. He chose the sprig as a symbol of this faith because of the three leaves which he believed was a sign of the Holy Trinity. Because its three leaf shape, it was also valuable due to the fact that the number "three" was held as an omen of good fortune even though we associate a 4-leaf clover as the one holding all the luck. As time wore on, the cloves were actually seen for a brief period of time as meaning a sign of rebellion. If you were caught wearing any evidence of the plant, you were immediately considered any enemy to the state. This belief did not last long thankfully, and eventually returned as a sign of spring, luck and Irish pride.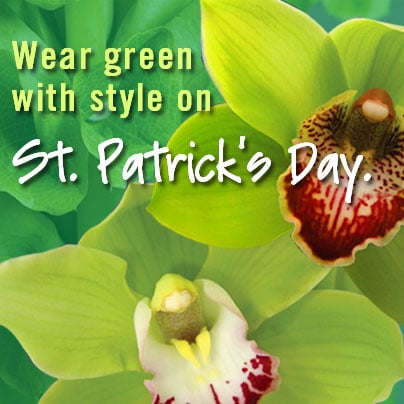 photo via aboutflowers.com
Today, shamrocks are recognized all over the world and not just on our beloved Saint Patrick's Day. No matter what your religion or origin, millions of people search each year in the hopes of finding a four-leaf clover, although a three-leaf clover brings good tidings, too. Standing for love, hope and faith (in the case when a fourth leaf is found-God), this tiny treasure is Mother Nature's gift to the adventurous heart who seeks out the magic of the petals growing across green countryside. If you do not have access to a blooming lea, supermarkets often carry pots of clover during the months of February through April at an inexpensive cost. For those who enjoy growing their own, you'll be happy to know that shamrocks (or otherwise known as Oxalis) are perennials which bloom every year as a ground cover. Many of which are planted as a bulb, the best places to start your own crop are nearby garden edgings or rock formations.