Those Pretty Anemones
I love all kinds of anemones
Simply because they remind me
Greatly and wonderfully of my earliest days
Of my childhood ...
I used to see them during Springtime…
By Mohammad Skati
The Anemone is a strong symbol for the beginning of spring and is often one of the first blooms to emerge from the newly thawing earth in some climates of the USA. Not to be confused with the "Sea Anemone" the flower is commonly found in wooded areas and thrives within damp soil conditions with a high acidic reading. Their appearance varies from shades of deep red all the way to bright purple, although once the bloom began to be cultivated by professional growers inside greenhouses, their colors expanded to other areas of the spectrum. Now you can find these beauties in shades ranging from blush peaches, creams and pink. Although the stem is delicate and will break easily if not held with care, the Anemone (or otherwise known as "windflowers") will last longer in bouquets and arrangements compared to other seasonal varieties.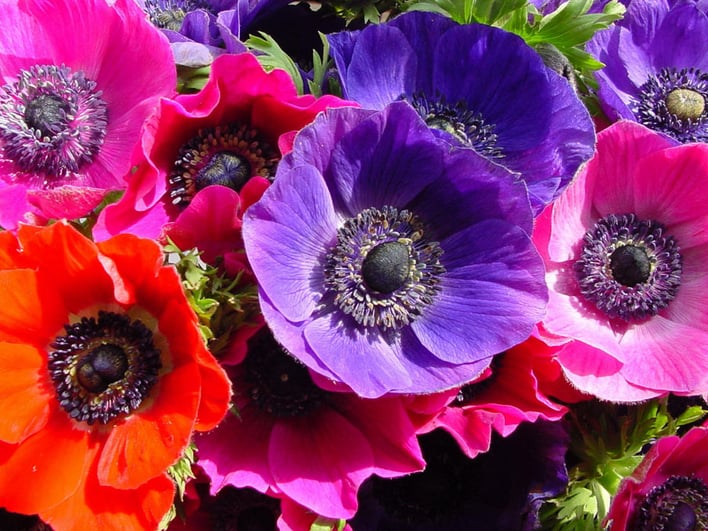 photo credit: www.vanishingtattoo.com
The symbolic meaning of the flower is tied to Zephyrus (the God of the Winds) who fell in love with a woman while he was married to another. His wife became so overcome with rage and jealousy that she cast a spell on the girl, turning her into the flowering Anemone so that her husband could no longer be with her. Due to this tale, the flower is often reflective of "abandonment" or "longing" and sometimes has a "jilted lover"reference.
Another notion that is tied to the flower is its ability to ward of disease and evil. It is unsure where exactly this meaning is derived from although the motion of the petals to close during the night is one possible theory. Some Eastern cultures tend to disagree with this position and believe that anemones are future signs of bad luck. As a matter of fact, the bloom is commonly seen as part of casket sprays and sympathy baskets at funeral ceremonies and burials.
Since the flower has a wide array of symbolic meaning across the globe, it is wise to give the anemone as a gift to patients in the hospital gesturing "get better soon" or as to newlyweds to reinforce the idea of "faithfulness" and "loyalty". If you are unsure of the appropriateness of the occasion, be sure to ask your local floristfor help to avoid any embarrassing mixed messages about the Anemone.