"Innocent Hyacinth Tinted with Mint"
Innocent Hyacinth tinted with mint
Tingèd grey hinged on stem singed
With chestnut leaves flowing, to me a fair hint
Of off-centered carousing, black eyes perusing
Wares of all sorts and stocks of all shares
The leading on of a pleasure most gracefully enthusing…
By Guy Braddock
Mar 24, 2014
The hyacinth is probably the most famous blossom associated with the end of winter in New England and the beginning of a new spring season. Although it is customarily tied to native Boston gardening, the hyacinth actually originated in western Asia and was eventually brought to Europe where their popularity expanded across the continents. The bulbs are typically planted in the fall and are the first to arrive as soon as the temperatures begin to raise up into the low forty to fifty degree weather patterns. They are quite popular in flower shops and nurseries because they are available in a wide array of colors including purple, pink, peach, white and even salmon. The hyacinth is world renowned by the largest importers of the world and has maintained one of the top five spots for most exported flower for gifts within holidays such as Easter, Valentine's and Mother's Day. One of the reasons is due to their incredible scent that usually registers as a sweet infused aroma. Its ability to outlast many of its other floral companions is another reason it keeps itself in high demand. Many believe its sturdy shape and compacted bell-like heads acquires the asset of longevity for the plant. The petals climb up a durable stem and form a tree-like formation with several flowers blossoming one on top of the other.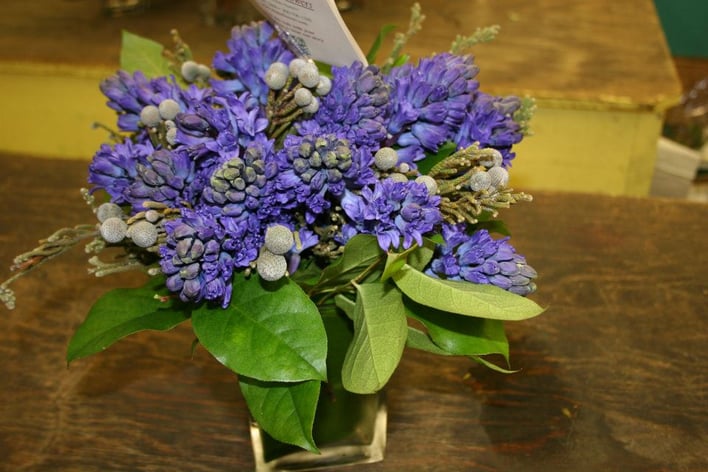 Symbolically, the hyacinth is dated back to the Greeks, where both the gods, Apollo and Zephyrus pined after the god, "Hyacinth". When Zephyrus became jealous of his fierce competition from the handsome boy, he changed the course of the wind, causing a discus to hit Apollo and kill him. Broken hearted, the god decided that flowering hyacinth would forever bloom wherever his lover's blood had shed as a sign for remembrance. This is why themes such as sorrow were originally tied to the bloom although constancy and discretion are also mentioned in reference to hyacinth.
Through the years and cultivation of the species, the eclectic assortments of colors that are now grown have brought about a new way of categorizing the hyacinth's meaning. Refer to the chart below to see a chart of each color and what it means.
Pink-Bashfulness/Happiness Yellow- Jealousy Purple-Sadness
Blue- Sincerity White-Purity