We all know that many of us choose to match our personalities with other decisions we make throughout the day. Our clothing habits, foods, books, movies, friendships, careers all typically revolve around the true inner person that exists inside of us all. We make these choices to confirm and celebrate the differences from those around us to better express our feelings and emotions. It is one of the fundamental principles that we as humans possess that is exercised consistently throughout our lives. As women, we tend to depend on this response more than our male counterparts, primarily because there is said to be a higher ability of creativity with the female hormone system. Interesting, right? This means that our favorite colors, styles and scents are constantly being reflected in every area where we have the option to inflict our preferences.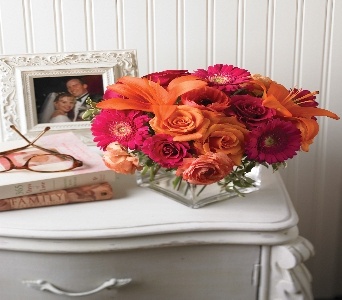 When it comes to flowers, this is no exception and holding true to the last stat I mentioned, women tend to be pickier about what florals they showcase in and around their living spaces. One reason is because they are trying to complement their persona with the designs seen at their local florist, which sometimes can cause a bit of confusion. Due to this issue, many professionals in the industry are now displaying charts which give clients suggestions based on their unique personalities. For instance, a woman who leans on the sweeter side of things is more apt to enjoy a fresh bunch of garden roses, sweet peas or peonies. A woman regarded as slightly more intense (here's where I lay on the spectrum) would more likely enjoy bolder varieties such as orchids, callas , lilies- specifically tiger lilies.
A fun fact about tiger lilies is that these flowers can either be cultivated in specialized greenhouses or grow wildly in the outdoors. Their color availability is as broad as the sun, giving women like me a tremendous selection to choose from. Red, orange, yellow, white, cream-you name it and chances are, your florist will be able to find it. Once you have picked the shade you prefer, you can move onto whether or not you're the kind of gal who likes clumps of a single bloom species or the opposite-a mixed arrangement with many different types of florals included. For me, I almost always go with the single variety option because of the simplicity in beauty and uniform coloring.