I'm a summer girl at heart and although the heat isn't a favorite for everyone, I have to admit it's the time of year I look forward to the most. A day of high eighties or even ninety is a welcomed atmosphere, causing the seedlings to burst open and vegetables to grow almost full size overnight. But one thing that may not appreciate the scorching temperatures is the cut flowers sold by local Boston florists. The overwhelming humidity can be just too much on the delicate petals, no matter how fresh they are or what air conditioned spot they're going to be placed within. Something as easy as transporting fragile blooms in warm weather can cause the heads to wilt and the foliage to shrivel up and die. Just like the chilling temperatures we New Englanders experience during the wintertime, which can irritate floral presentation with issues surrounding freezing, the summer can be equally as tricky due to the opposite conditions.
So does that mean we have to go without beautiful arrangements until the start of fall? Heck no!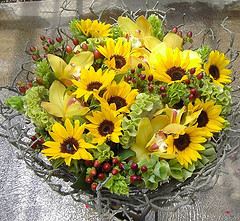 phot credit: Lisa Greene via aboutflowers.com
You'll be pleased to know that there are varieties in existence that can sustain severe increases in the thermometer readings. By requesting these species from florists, we can continue to enjoy blooms all the way through July and August. So what are these magical specimens that can fight the blaze of the sun? Take a look below and see which one of these fabulous floral varieties appeals to you!
Sunflowers
This is the number one species that you should be looking for if your planning on throwing an outdoor party within the next few weeks because they're a strong fighter against drooping and petal dropping. Their stalks are extremely durable and for some reason and can withstand long durations outside with minimal water. If you are expecting to use these as cut flowers in vases, make sure to change the water frequently if the containers are clear because it often gets murky pretty quickly due to the plant's milky substance.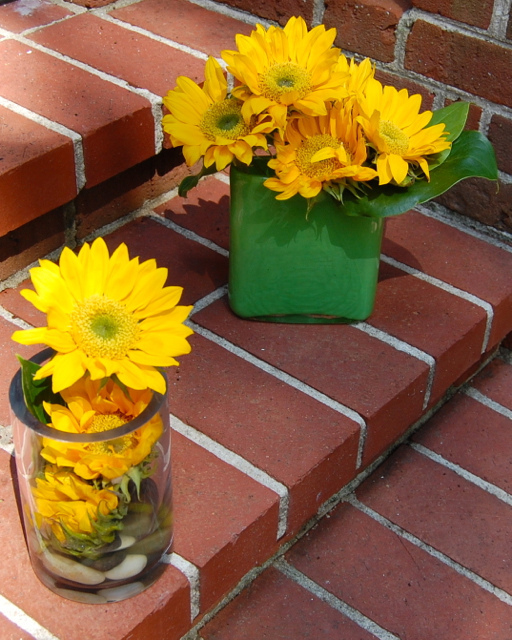 photo credit: aboutflowers.com
Zinnias
Zinnias are an excellent option because they are available in a zillion different colors and can also live through long heat waves. They are particularly perfect for July weddings when made as boutonnières, flower girl baskets or even hair accessories for the bride or her bridesmaids. They'll add a pop of color and also hold their shape until long after the ceremony ends.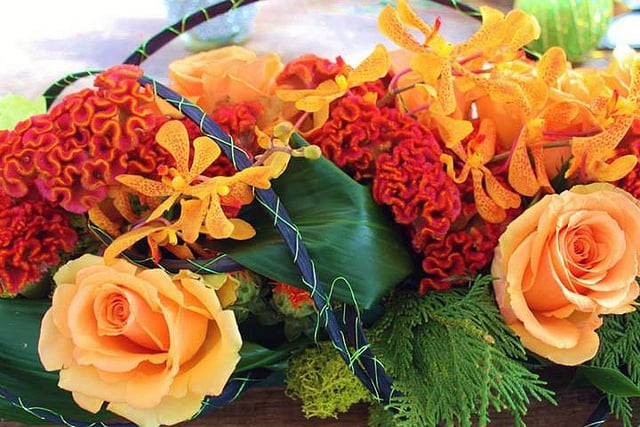 photo credit: aboutflowers.com
Celosia
This heather-like plant is a great additive to outdoor mixed arrangements because their feather appearance exhumes the essence of summer but also will maintain its erect stature no matter how hot the day becomes. You might find it to be a little pricey but celosia is well worth the investment and promises to not let customers down.