Christmas has come and gone but many New England companies have decided to bring the merriment into the beginning of the New Year. Holiday parties used to be thrown solely in the month of December but with soaring costs and limited time within bustling schedules, many corporations have taken it upon themselves to change the rules a bit. By arranging employee get-togethers after the traditional season, management departments have found that, attendance higher and party expenses drastically decrease. Do you know that the rate to book a room in a hotel or restaurant for events in Boston decreases by 25-30% during the first few weeks of the year? Let's face it- it's worth the wait.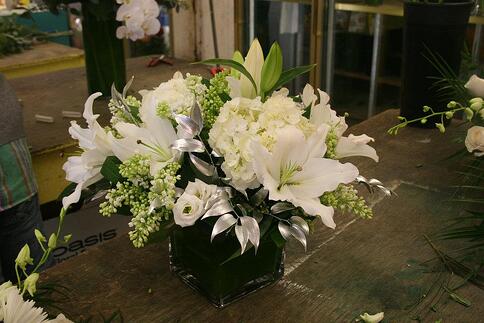 One factor does change, though, with this decision because different flowers are available during different months of the year. Red, white and green are the number one shades for request during Christmas but do we really want to drag that into a January party? I don't think so. There are ways to incorporate a holiday theme without duplicating the look. Try using some of the previous seasonal colors with those new to your inventory now. Some florists attempt to slip in items that didn't sell for Christmas and in an effort to eliminate them, will place them in your event décor so keep a watchful eye for fresh and contemporary details. Silver and gold make a wonderful impact since they can be celebratory of New Years but still remindful of previous holiday festivities. Try to stay away from ornaments, wreathes and trees as decorations, they've been done to death at this point. Select items such as white lights, sparklers and soft shades as accents for linens and dishware. By using a delicate palette sans the sharpness of green and red, you'll uplift your guests without weighing them down of memories associated with Christmas colors such as overspending, anxiety of family reunions and ridiculous seasonal tasks. Leave it where it is and move on.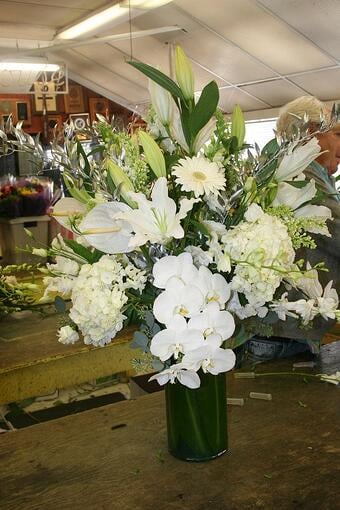 There are great options for flowers in the month of January so don't forget to spend an adequate time investigating your Boston florist. White in particular, is seen in expansion within tulips, roses, lilies and freesia. If you're looking for a bolder look, think about using a mixture of cream and purple to create a dramatic appeal within your arrangements. You'll find that amaryllis is grown in deep shades of maroon and is still available during the colder portion of the year. Gerbera daisies, alstroemaria and Asiatic lilies also offer a comparable presentation but with a lesser cost. Another idea is to go for a blue theme where you can ask for stems of delphinium or hydrangea to fill the table vases. Blue is an excellent color that gives centerpieces a "pop" and is representative of the pleasures that the New Year will bring!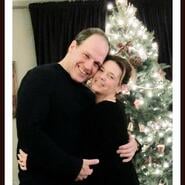 Suzie and Rick Canale, Westwood, MA December 2014
Suzie is already planning her garden for this summer.