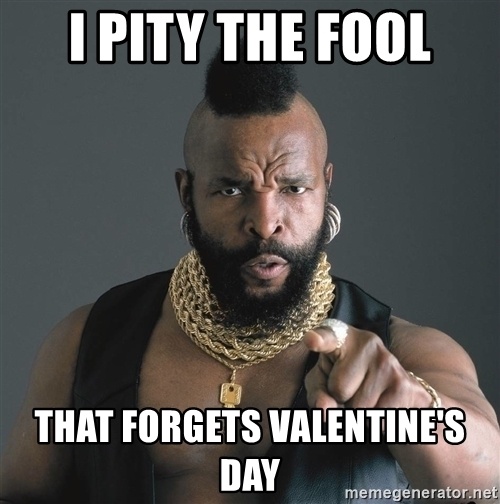 If you belong as part of a happy couple, I hope you are all aware that this Wednesday is Valentine's Day. You know what that means, right? It's time to get ready to celebrate the holiday of love with that special someone and to make sure this year is a memorable one-you'll need to get crackin' on those plans! Why is it important to stay on top of your V-Day game and not breeze on by it like it's no big deal? Because the sentiment you leave behind on Valentine's is quite often the lasting impression that follows you for the rest of the year. If you're really into your significant other, you don't want to jinx the relationship, do you? Of course not! If you're not sure how to navigate the tricky waters of romance, here are a few tips that will help you communicate to your girlfriend/boyfriend how much they mean to you. Make sure you don't procrastinate any longer and get ready to jump into the warmth and fuzziness of Valentine's Day!
V-Day Check List:
Don't assume she/he isn't looking for any recognition as your special sweetheart. Everyone wants to feel loved, especially on February 14th. However simple your gesture may be, it's an important one to make so if nothing else-gift a card that says, "I Love You". If you want to go the extra mile, hand make the card or write a poem. These are guaranteed to become keepsakes for many years to come.
If they have a sweet tooth, candy makes a great present! Pick up some hand dipped chocolate strawberries or try picking up a box of Dove, Ferrero Rocher or my favorite- Russell Stover who makes one of the best assorted chocolate mix truffles on the market. You can even swing for a higher end variety such as GODIVA who also makes a rich and tasty treat!
While some give the thought of jewelry as a token of their love, you may be looking for something a little less expensive and a bit less intense for your relationship (although Valentine's Day is an excellent time to get engaged). As said above, handcrafted items are the best gift and you don't have to be an artist to create them. Easy-peasy ideas include making a collage of all the special things you feel about that person (include trips, experiences and photos of the two of you), cook a special meal that they love (read on if this sparks your interest) or better yet- make your own jewelry such as a beaded necklace or bracelet they can wear to always remind them of you!
Back to the food part I mentioned earlier… Restaurants in Boston can get over booked fast and may not be in your budget this month. If this is the case, then take a good look at a family cookbook where you can dig up a delicious dish just right for the occasion. They'll appreciate the effort and the time it took to make your Valentine's Day special.
Last but certainly not least-don't forget to order your FLOWERS! A rose for your rose is a sure fire win every February 14th!