Another February is upon us and florists everywhere are hoping to make this year's Valentine's Day a memorable one for all the couples out there celebrating. February 14th is the largest flower holiday in the industry so designers are working their tails off trying to come up with trendy bouquets and arrangements while still supplying the traditional favorites we annually look forward to. Boston continues to be one of the leading cities for setting the floral pace around the country and 2018 looks to be yet another year where Boston experts won't disappoint. Whether you're looking for an interesting centerpiece with a nouvelle style or hoping to purchase the good-old-reliable dozens of roses, florists will have you covered with a stunning array of Valentine's Day flower picks. Not sure yet what you want to gift your lovey this 14th? Check out these popular assortments of multi-colored fleurs which are sure to appropriately express the sentiment in your heart.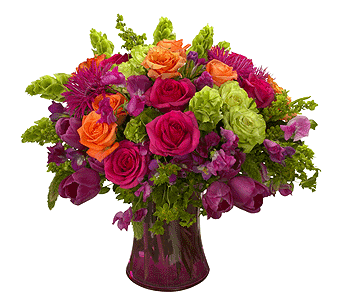 Say it with PINK!
If you're not ready yet to go all the way admitting you've fallen in love, there's a second type of selection you might want to try. Pink is a beautiful shade which not only gives a solid expression of "like" but also mixes well with many different hues of petals. Pink is the perfect choice for a new interest in your life or for younger couples (perhaps in middle school/high school) who seek a more innocent gesture. Pink Valentine's Day flowers are also ideal to express friendships or thoughtfulness towards a family member (a son to a mother for example). Pretty varieties grown in this shade appropriate for this style would be gerbera daisies, orchids and of course, the infamous rose.
Get Your Exotic On…
Knowing this look isn't for everyone, I will not deny the segment out there searching for a floral design that expands outside traditional designing. For some of us, a fresh and funky vibe is exactly what we need to let a special someone understand-we're not the typical suitor. If you think this might be you I'm talking about, keep reading… You don't want to just hand over a bunch of pretty petals to the person who makes your heart beat, "THUMP, THUMP!" Heck no! You want to impress them with a piece that's not your everyday ordinary arrangement. In this case, try requesting designs with architectural significance such as branches or tall blooming varieties. French tulips, cherry blossom, calla lilies and mokara orchids are excellent options as well as forsythia and amaryllis.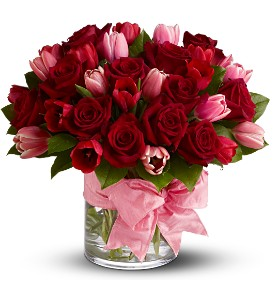 You're Traditional and that's the Way You Want to Keep It-
There is absolutely nothing wrong with wanting to keep things the same way they have always been. After all, where would we be without the long stem red rose or the perfect red ranunculus? These are the staples and very basis for floral design on Valentine's Day and there's no law being broken with wanting to celebrate that. Hold it to mind that if this is the way you want to go, wonderful red varieties to add or replace the red rose include anemones, gerberas, james story orchids and "red sox" calla lilies. If you're sticking to what works best, have a conversation with your florist about which red rose species they'll be using. The specific name can make all the difference in the world.