Poppies, Poppies, Poppies….
Poppy, Oh Poppy!
Poppy, oh poppy abundant and flowing
across all the fields you're still constantly growing.
As your seeds blow and find their own bed,
they're reminding us of the most glorious dead.
Glorious in the contribution they made.
Glorious for the price that they paid.
Glorious for fighting for what they believed.
Christopher K Bayliss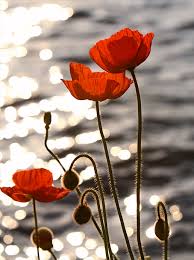 "Poppies….poppies….poppies will put you to sleep…" From the most evil movie character of all time, the Wicked Witch of the West, we all remember when we first were introduced to this seductively powerful flower. The Wizard of Oz is certainly the most popular frame of reference when discussing the symbolism and meaning of the poppy but in actuality, the gorgeous blooms extends to other interesting sources as well.
Poppies grow throughout the world but were cultivated in abundance within the Orient where opium is an attractive and lucrative trade. The compounds made from the flower are highly regarded as healing medications including other derivatives such as morphine and codeine. With the exception of the seeds, the entire plant contains poison of some type or another, which accounts for its reputation for meaning "death" and "sleep". With the few parts that are non-toxic, bakeries often decorate their goods with poppy seeds on top of breads, cookies and bagels.
On the flip side of the poppy representing negative attributes, the flower can also be looked upon as a sign of opulence. The stunning large heads that can be grown in shades of either purple, pink, orange, yellow, white and most popularly, red, dynasties throughout time have included this bloom in many important ceremonies and rituals. Be careful which color you choose though because their meaning differs with every change of hue. For example, darker varieties are given to newly wed couples in Europe to encourage a passionate and deep love affair throughout the years while the white is directly associated with fatality.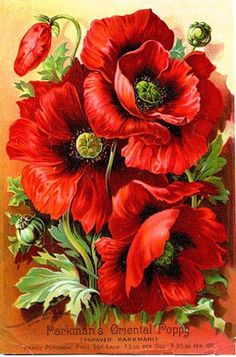 Another significant tie that the poppy is associated with is remembering the dead, particularly when speaking with those who had fallen during World War I and II. Poppies were used as a symbol of respect and memory for loved ones and stems were strewn at the base of graves and memorials.