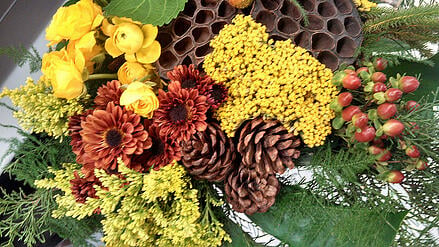 Autumn in New England is a time of year in which Bostonians relish in seasonal activities of carving pumpkins, jumping in piles of raked leaves and baking pumpkin pies that infiltrate our homes with decadent aroma. We often sit in anticipation of these crisp few months before snowfall because they are reflective of themes embodying outside activity, family and warmth. As a Boston florist, we attempt to capture this feeling when designing centerpieces, funeral arrangements, party planning, wedding bouquets and general storefront décor. While purchases from the flower market often reflect varieties that are locally grown during the months of September and October, flower buyers are also aware of color selections, often opting for tones of red, orange and yellow. Occasionally, you'll see a fun accent of purple, green or pink but this base palette is the most popular and supports a strong product line for the fall season. Why do we depend on this traditional spectrum when creating flower arrangements? The answer is simple. Particular colors bring forth particular emotions, many of which revolve around pleasant memories that Bostonians generally experience during this time of year. Certain colors represent familiar seasonal symbols and events, arousing pleasant thoughts and moods. The memories make us feel good, which is why we put pumpkins on our doorsteps, tie hay bales to our lantern poles and yes, buy flowers emanating the hues of autumn. Here's what my fall color palette symbolizes for me.
Red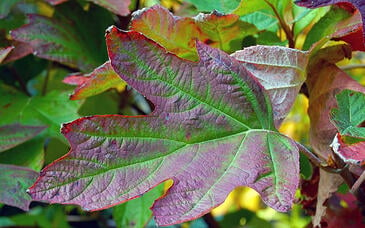 Red is often associated with the emotions connected to passion. Whether love or hate, there is strength behind this hue, a quality that makes us react more so than any other color on the spectrum. When connecting red to autumn facets, thoughts of crackling fires when the weather drops colder, plucking a ripened Macintosh apple off of an orchard branch and Japanese maples tree leaves blanketing the ground in a luxurious carpet. The color red connects me to the words warmth, ripe and decadence.
Orange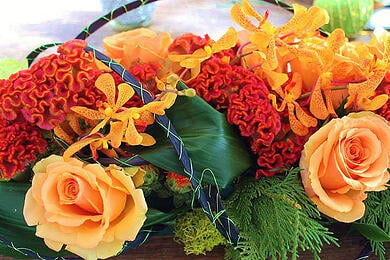 When feeling the color orange during fall, there is no getting around the obvious imagery of pumpkin patches. What is so wonderful about pumpkins is that they fulfill almost all of the human senses including sight, taste, scent and touch, a desirable reaction when incorporating this color within your flower arrangements. Pumpkin patches can symbolize the scent of pumpkin pie baking in the oven, the fun touch of seeds slipping through your fingers and the site of bright orange globes of bittersweet resting in curls of vines. Orange for me represents the idea of health, enjoyment, laughter and imagination. Of course we all know what Cinderella's carriage changed into at the stroke of midnight!
Yellow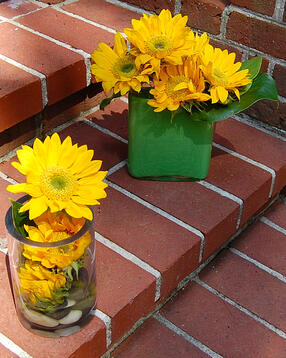 Who doesn't love the color yellow? Its happy, dazzling and uplifting to the eye where in most cases, brings a person's general emotion state to a higher level after visual contact. Sunflowers, chrysanthemums and dahlias are favorites of florists when using this shade within their pieces for exactly this reason. When associating yellow with fall, I think of the comforting rays of sunshine that we learn to appreciate as they grow fewer and fewer, a field of sunflowers standing stiff with their round faces full of light and the emotion hope as we see more and more candles flicker with the changing months.
- Suzie Canale
Westwood, MA

Suzie Canale is an avid gardener, accomplished floral designer, mother of two boys, works at the Westwood Public Library, has published four children's books, and is the director of the Women's Locker Room Foundation.
* all images in post supplied by Flower Factor's flickr site