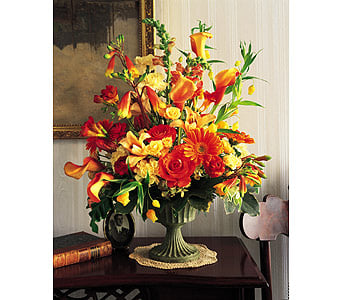 Accessorize a large table by placing a long, narrow centerpiece in the center of the table. Add a few small votice candles on each side of the arrangement for an added effect.
Ask your the staff at Exotic Flowers to create a centerpiece in a treasured family vase or bowl, or in seasonal pieces such as a cornucopia or a utility vase surrounded by dry corn cobs.
To create a lot of drama and variety, place a topiary at one end of the table leading to a cluster of small potted plants, then two smaller topiaries with candles leading to a tray of votive candles and flower petals, and so on...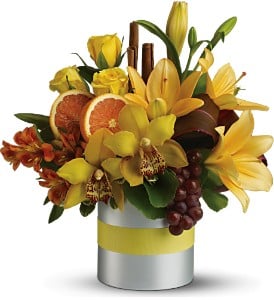 Garnish your serving trays with flowers and greens.
Scatter colorful fall leaves, flowers and votive candles along the center of your dining table.
Float flowers in crystal wine glasses.
Place a single long-stem rose on each plate to welcome your guests to the table.
Decorate small desserts with flowers or make an ice ring with flowers to chill champagne or wine.
Ask the Exotic Flowers floral design team to design the arrangements for your buffet table on several different levels to keep the eye flowing all along the table.
Place a garland of fruit, flowers and fall foliage over your front door.
These simple tips will not only enhance your meal, but create lasting memories of beauty amongst your family and guests.