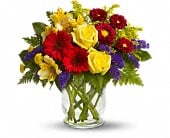 Of course Father's Day does not have the cache or exposure of Mother's Day. Father's Day is Sunday, June 19th. Father's like everyone else appreciate being thought of and appreciated. Whether you say 'thanks dad' or we appreciate everything you do. It is also nice to shower your dad with gifts too. After all, he has been a shoulder to cry on; a guy who freely gives you more $ than you ask for and even changed a diaper or two along the way.
At Exotic Flowers in Boston, we always suggest fresh flowers as being the best gift to receive. Men appreciate receiving flowers. The old fashioned theory of men not liking them is out the window. Men like flowers and men like to receive flowers.
If you are still hesitant to send flowers, the staff at Exotic Flowers Boston has come with some great gift ideas as well.
From, the Garden Center at Exotic Flowers in Roslindale on American Legion Highway; Exotic Flowers offers your dad is very own herb garden. If your dad likes to cook or grill, this item is ideal for him.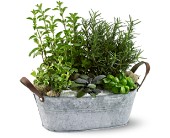 For a gift that's both fragrant and utilitarian, send a selection of real herb plants in a galvanized bucket. With fresh sage, peppermint, rosemary, basil and more, it will add taste to any kitchen – and a lovely touch to any décor.
If your dad, brother or uncle is not much of a cook and enjoys indulging himself on other's cooking; we have our Take Me Out to the Ballgame gift basket for Father's Day.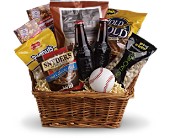 Dads, and Red Sox fans of all ages will think you're an MVP when you send this winning basket. Full of ballpark favorites and more, perfect for a picnic or a pick-up game in the park. You'll score a home run with this yummy basket that includes a real baseball, of course.
Peanuts, pistachios, Cracker Jacks, three good old-fashioned root beer or Sam Adams if you choose are teamed up in this basket.
During our time as the Offical Florist of the Boston Red Sox, we picked up some cool artifacts along the way. For the Dad who has everything and loves the Red Sox, we have a real base used in the 2007 World Series.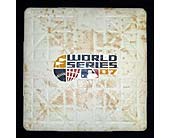 What more could you ask for ? A real game used base from the 2007 World Series between the Boston Red Sox and Colorado Rockies. This is a true piece of history. This base comes from game 2 of the 2007 World Series at Fenway Park. The Red Sox won this game 2-1 at Fenway Park on 10/25/7.
And finally my favorite gift for new Dads or Grandfathers; The Land of Chocolate
Cosmos children's book.
** DELIVERED FREE ** The Land of Chocolate Cosmos is the first book in the Green Series dedicated towards educating and empowering children to change the world's environmental concerns. Within the first tale, a community is distraught when their magical natural resource, the chocolate cosmos flower, is overused and abused. With the help of Coco, the people learn how to recultivate and preserve the cash crop, sustaining the sweet enchantment of chocolate that once enriched the tow