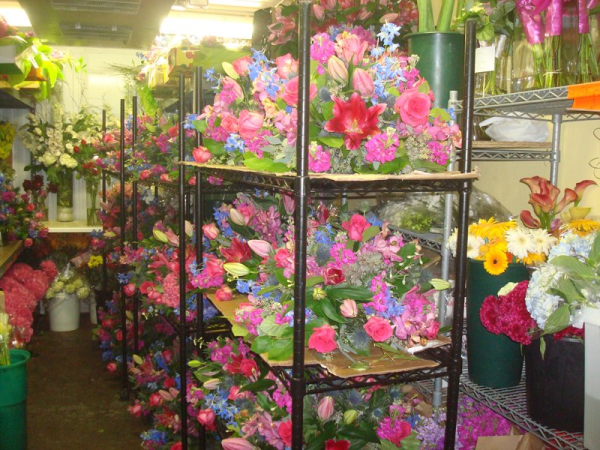 Last week I traveled to Manhattan on behalf of Suzie Canale's visit to Pajama Program Headquarters to read her children's books. While Suzie was sharing her
Beantown Tales
, I visited the historic New York flower district in search of my colleague Nic Faitos of
Starbright Floral Design
. Nic and I have exchanged ideas and orders since getting to know each other via social media in 2010. The George W. Bush administration preached 'face time is indispensable,'. In this case, our in person meeting was long over due.
Having braved treacherous highways and driving rain, I arrived in New York City hoping to catch up with Nic at Starbucks for coffee. Thanks to the rainstorm, Nic was delayed. Like all florists, Nic had to check in with his operation and staff to make sure the day would exceed his clients' expectations.
I have the utmost admiration for Nic and Starbright and asked to see the guts of Starbright Floral Design. Between a myriad of texts and finally a phone call, he gave my directions to his shop in the heart of the floral district. What a treat ! I passed by windows and sidewalks filled with six foot bundles of ilex and magnolia, thousands of orchid plants, topiaries, azaleas and the largest lobster claw heliconia I have seen.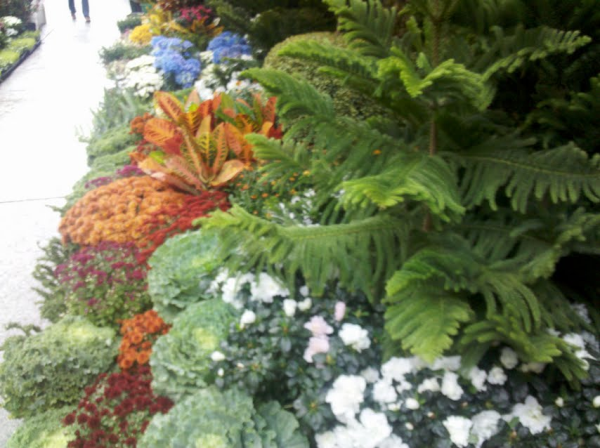 But Starbright Floral Design does not have a flower shop. They are on the second floor of a warehouse/office building. Upon walking in the shop, it felt like I was back in Boston. Floral designers were crafting gorgeous arrangements of roses, calla lillies and orchids; some flower arrangements featuring anthurium and pineapples for parties that day (even at the famous Copacabana) and others with roses and vanda orchids for a wedding that weekend. Telephones rang, flower processors and delivery personnel hustled throughout. I announced my presence and a towering man with glasses and ponytail leaped from his chair with a hug and a welcome. After exchanging pleasantries, Nic welcomed me 'to his kitchen,.' Just like Exotic Flowers in Boston, there was action and a bit of a mess, just like the 'kitchen' at Exotic Flowers. We grabbed a Starbucks and went straight to exchanging ideas.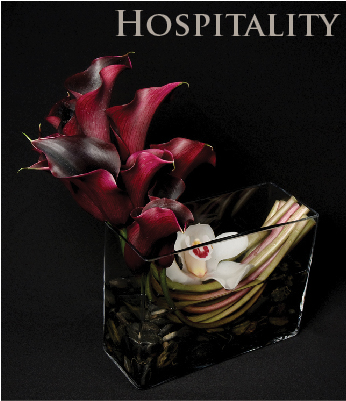 Nic and I then held our first of many future meetings. This New York florist can teach this Boston florist a great deal and vice versa. We exchanged ideas all in the name of growing our businesses. At the same time, we cemented our gentleman's agreement; we will treat any New York to Boston order as a VIP and the staff at Starbright Floral Design will do the same for any flower order from Boston to New York City.
Don't worry, I am not becoming a Yankees fan and I am not pulling a
'David Ortiz.'
Exotic Flowers of Boston's relationship with Starbright Floral Design of New York City is all about building our business and cementing our relationship. Our business will grow and prosper because of our clients, our staff and our partnerships.
Images one and three of this blog are both designed by Starbright Floral Design of New York City.