Cool Christmas Centerpieces on a Budget
Christmas decorating is a lot of fun but it can also be really expensive, which puts a damper on things fast. The lighting, linens and ornamental baubles throughout the home can be quite costly so where we can find a little room to save, we have to nab it! One of these areas can be found within floral centerpieces. By implementing creativity and imagination, you will see that you can design stunning arrangements that are both budget savvy and eye appealing. There are a multitude of materials lying around our backyards, basements and attics that are just waiting to be reused for this year's seasonal décor. These are just a few ideas to get you started with your planning for the Christmas festivities!
Ornaments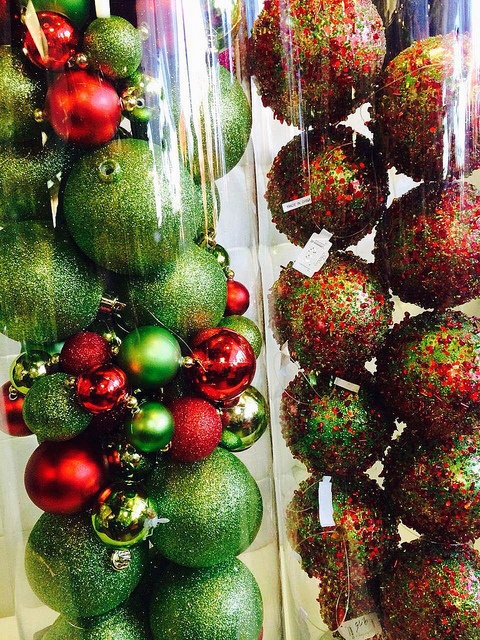 photo credit: FlowerFactor
Ornaments can do more than simply hang on a tree! Their intricate colors and designs are perfect for crafting such as this centerpiece made with ribbon, pine and round Christmas ornaments. All you have to do is find a foam base and start glue gunning the materials in the desired format. Oblong and circular work well but for those who are confident, try a box or triangular shape. In no time at all you'll have a pretty and seasonal presentation like this one!
Candles
Candles are a great investment because you'll find that they have multiple purposes besides just lighting a room. Select a low serving platter or a cheese dish and place white candles in the middle, leaving room in between. Fill in the spaces with cranberries and place in the center of the buffet. Not only will the glow compliment your dishes, but you'll save a few bucks by utilizing what you already own in your home.
Fruits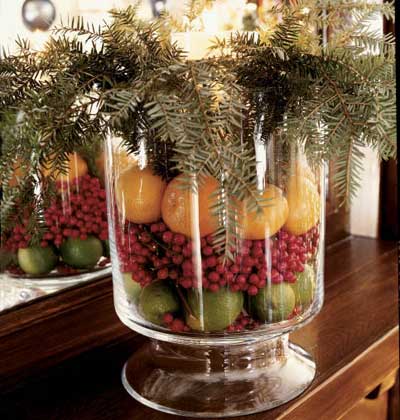 photo credit: myhomeideas.com
If you need a fast and workable arrangement this holiday, I highly suggest this ingenious idea of layering fruit in a clear glass vase. The container should have sizeable width and accessible height to accommodate multiple shapes and sizes. Raid your refrigerator for oranges, lemons, limes and berries (anything with bright color) and finish it off by clipping a couple of branches from your tree. Voila!