I LOVE fruit! I love it for so many reasons, which is why my fridge is constantly stocked to the brim with assorted varieties so that my whole family can pull out a delicious treat whenever the urge arises. Assortments such as grapes, oranges, apples, mangos, bananas and pears are incredibly good for the body but as a former florist, I can see a whole other world of possibilities that make this food group a desirable topic for designers. One of the best qualities besides the health benefits of fruit is the color, texture and shape that the juicy flesh grows inside of. This is an interesting factor for florists to acknowledge because it allows us to get really creative when incorporating blossoms with eye appealing produce. After all, why should we have to solely depend on a flower's properties of shading, size and appearance when the work can be shared with a prop having similarly positive attributes of attractiveness?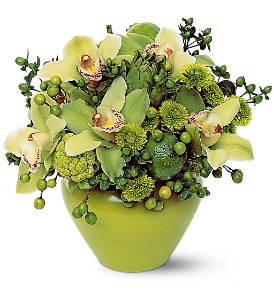 Here's what I mean…
By mixing flowers with fruit or utilizing the fruit as the fixture (vase) for the arrangement, we can create a fantastic conversational piece as well as a display that promotes contemporary style and clever technical skill. This type of designer theme also strongly reverberates the essence of "health" which can be useful for events appropriate for children or even fundraisers sponsored by hospitals, hotels or other service motivated organizations. They're also great for wedding buffets and cocktail/dinner centerpieces if the bride and groom wish to focus on a tropical or seasonal appeal (apples are popular with fall ceremonies). The possibilities are endless so try playing around with these fruit infused floral bouquets for a fun and flirty look for your next occasion!
Fruit for Inside the Vase
Using fruit inside the vase to contrast the blooms you have chosen for the arrangement can spark up a drab composition and increase dynamic and color. Strawberry stems alone can be put in bud vases or you can drip clumps of red or green grapes throughout a traditional floral structure. Other great varieties that work well are apples, oranges and raspberry/blackberry branches.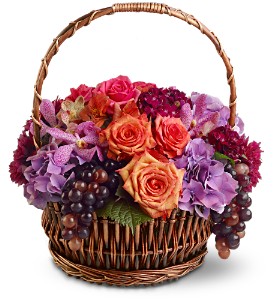 Fruit Used as the Vase
Pineapples are not only yummy but the core of the fruit also makes an excellent vase along with cantaloupes and watermelons. If you choose to use a clear glass vase, you can fill the inside with whole or halved lemons, limes or other varieties with a rind-like texture. The color will beam from both the top and bottom of the composition making it an extra stunning arrangement or display.