It's been deemed the wedding of the decade as fans watched the 53-year-old Hollywood actor, George Clooney, marry the famous human rights lawyer, Amal Alamuddin. Dating less than a year, the nephew of acclaimed silver screen actress, Rosemary Clooney, had finally found his ladylove after a long career of bachelorhood. Although details of the matrimonial extravaganza, which took place in Venice, Italy, are still surfacing, the world is on the edge of their seats wondering what this star studded pair had in mind to celebrate their nuptials.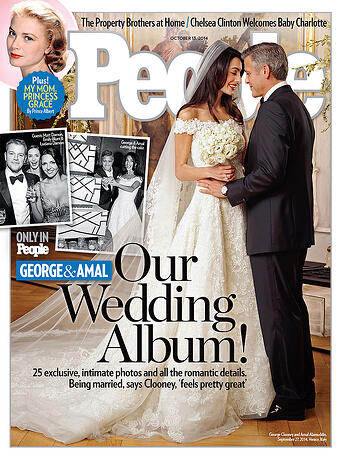 Believed to have taken place over a three-day span, reports specify that guests were escorted to the seven-starred venue in boats driven through the romantic Grande Canal. Once they arrived at the Aman Grande Resort, an imperial dinner was served following the couple's exchange of loving promises atop of a lifted stage. Official wedding photographs were taken in the middle of the hotel's lush garden, containing blossoms rich in vibrant color. A-lister invitees including Matt Damon, Bono and Cindy Crawford who watched as the bride (dressed in a stunning Oscar de la Renta gown tailored with cream French lace) and groom recited vows on a raised platform decorated with white pillar candles. Red wine flowed and music played on until the early hours of the morning…
But what about the flowers?
Floral décor has remained a hushed topic for this event although we have been able to take a peek at a few details revealing first and foremost- that there were a lot of them! As having been described as a wedding exhuming elegance and grandeur, the palette has been described as mainly white with accents flowing throughout the table centerpieces. The stunning British advocate carried an all white bouquet of ranunculus and hydrangea, tied together in a traditional European style, while Clooney nixed wearing a wedding boutonnière all together. We know that massive buckets of white hybrid delphinium were used in several main staged pieces as well Casa Blanca lilies, roses, orchids and lisianthus, again all in shades of white. Pictures of delicate peach roses and green lady's mantle were also seen being delivered by florists in dozens of massive buckets. Floral arrangements included large arches, small bud vases, table rounds and personals, which were included in the estimated $13 million dollar wedding festivity. Now that's what you call a wedding!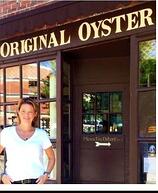 Suzie Canale lives in Westwood, MA. She works in the Westwood public library, mother of two boys, an avid chef and gardener who finds time to serve as the Director of The Women's Lockerroom Foundation of Boston. She has published four children's books through the Beantown Tales.
Clooney wedding photos for this blog from People Magazine and CNN