Once again, Oscar night managed to dazzle millions as we all tuned in to watch our favorite stars receive their awards of recognition. An evening filled with fabulous costumes, glamorous hairstyles and exquisite décor, this beloved movie tradition has maintained its reputation of being one of the most anticipated events of the year. One of the reasons is because of the sheer creativity that goes into planning the party including the jobs of the sound technicians, lighting experts and most importantly, the floral experts. Once again, Mark's Gardens of Sherman Oaks, California, managed to steal the post celebration party scene for flowers incorporating spectacular pieces throughout the location inspiring new styles that left many in awe. Diverging from last year's presentation of mixed bouquets, the clever florist decided to add a chic and bold theme to the 78th annual Oscar festivities.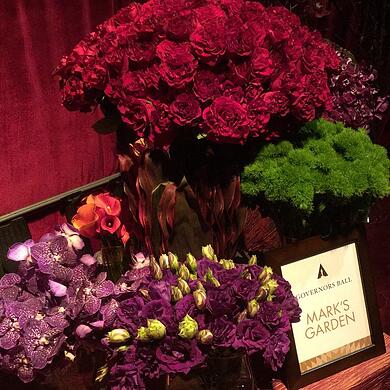 photo credit: Mark's Garden Facebook Page
The vases that were made for the guest's dining tables were truly a site to behold due to their electric color and soothing shape. Utilizing orchids, roses and ranunculus, the team manifested both high and low mounds of single variety blossoms in a rounded design. The color scheme was both attractive and sophisticated ranging from vibrant red and yellow to electric green and pink. The mix and -match combinations worked well in the dimly lit room and added a pop of drama that complicated the linens, wall color and wardrobes of the actors. Retro lighting goblets with raised emblems that were tucked in between the arrangements also completed the look by casting a glowing light on the settings. This old Hollywood style came off as a hit where the room also featured antique portraits of famous movie stars, reminding all in attendance of the honor to be present for such a treasured event.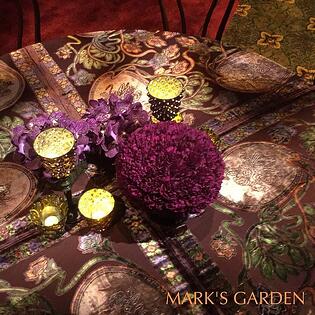 photo credit: Mark's Garden Los Angeles, CA
Another fabulous floral creation that was erected was a bed of ruby red roses that served as a stage for the Oscar statue mounted outside of the Dolby Theater. The breathtaking display greeted the red carpet parade and inspired others who waited outside anxiously. The statue was flattered by the mess free design and benefited from the particular shade of the blooms. Differing from the burgundy roses used within the table centerpieces, this variety reflected a perky pink, which was a perfect accessory for the high standing luminous gold Oscar as well as kicking off the celebrations with a magnificent bang.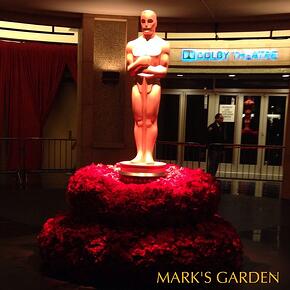 photo credit: Mark's Garden, Los Angeles CA
This year, Mark's Garden's did not disappoint and held worth of the glamour and glitz Oscar night always promises to deliver. We can't wait to see what he creates next year!
Suzie Canale, Westwood, MA
Suzie's favorite night for TV is Oscar night. Like some celebrate the Oscars, Suzie celebrates the Oscars.