The tables weren't the only place flowers were inspired at this year's 87th Oscar Night festivities! Infamous costume and wardrobe designers were also utilizing the gift of floral themed patterns, which even made their way to the red carpet. Keira Knightley was one of the actresses who was not only praised for her performance in "Begin Again" that hit box offices over the summer but also wowed onlookers in her stunning gown that received quite a reaction. Although Knightly was in attendance to support the film's nomination for Best Song, the actress found an overwhelming standing ovation for her dress choice, which is quickly urging tailors to continue this trend. Why was this frock so special? Not only did the cut and shape accentuate and flatter Knightley's very pregnant belly, but also perpetuated a softer, womanly style that many say Hollywood has been waiting to return to. Too often, starlets shed their clothes for a sexy, sleek appearance instead of selecting designs that present the classic beauty that the silver screen began with. Here are the details of the ingenious creation by Valentino.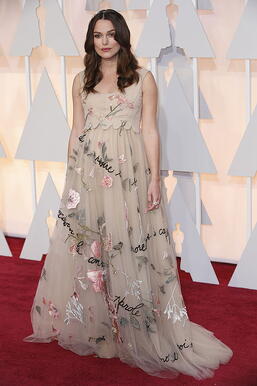 photo credit: NY Times
For starters, the dress couldn't have been made in any more of a romantic color that was sewn with blush pink and peach silk toile. Embroidered delicately up and down the front and back were stitched flowers of posies, a favorite of many flower lovers. The stems were woven in forest and mint green while the heads and petals were designed in silver, red and pastel pink. The pretty floral touches weren't the only beautiful detail either. Written in black script, French wording was also added, striking across the sheath and diagonally. Flowing freely around the actress's feet as she walked the red carpet, the simple yet stunning natural fall of the gown did wonders for Knightley's glamorous entrance. Originally the pattern had been constructed to hide the upcoming birth of her first child with husband, James Righton. The illusion was successful although photographs shooting the side of the 29-year-old brunette gave her condition away.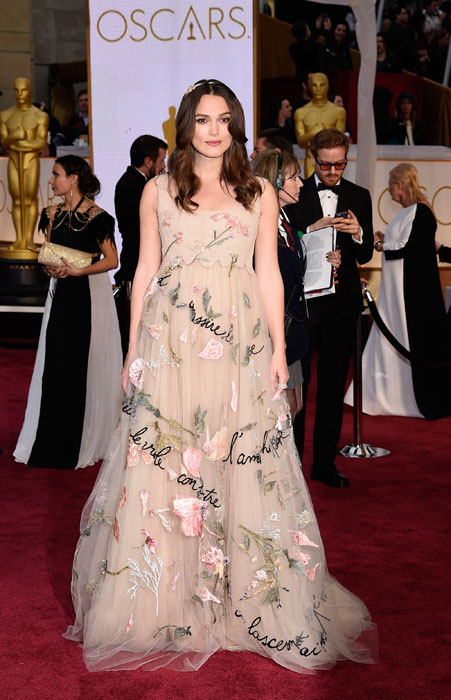 photo credit: www.ok.co.uk
If the dress isn't enough to impress you, how about the floral crown that Knightley brilliantly accessorized with? Setting perfectly on her head of long brown locks, the headband encircled her hairstyle, which was also gentle in appearance being only primped with soft spiral curls that hung past her shoulders. The band of buds matched the petals that were featured on her dress and accentuated the natural beauty that Keira Knightly has impressed the movie world with. The actress has ignited a huge flower fad in the fashion world and has also successfully shown Hollywood that her classic face, image and wardrobe choice is still the glamorous way to go!
Suzie Canale, Westwood, MA