On January 10th, movie and TV lovers crowded around their television sets with anticipation to see which of their favorite on screen stars would walk away with a golden globe. The excitement of the speeches, the glamour of the gowns and the glitter of the sets make this event one of Hollywood's most grandeur evenings. Little do we know that in order to orchestrate such a massive undergoing, specialists from around the country must be recruited for their special expertise in lighting, staging, catering and of course, floral design! But who is chosen and how are the styles and designs selected? The stakes are high in the competition to snag this gig but this year's winner went to Mark's Garden Floral Design of Sherman Oaks, California. This company has a long, standing history of appeasing the floral tastes of the rich and famous of Hollywood Hills including Charlize Theron, Michael Douglas and Kate Hudson so he was more than ready to tackle the enormity of designing the Golden Globe centerpieces.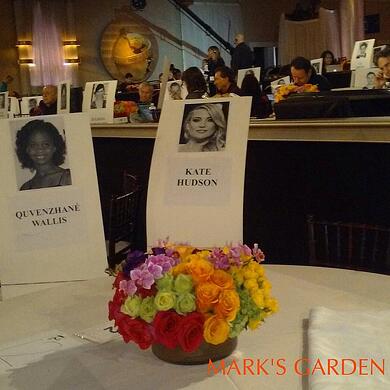 photo credit: Mark's Garden, Los Angeles CA
Every year is different and every ceremony has its own specific theme where vendors are asked to reflect within their work. This time, there was a bright and colorful feel, focusing on the beginning shades of the spectrum of yellows and pinks.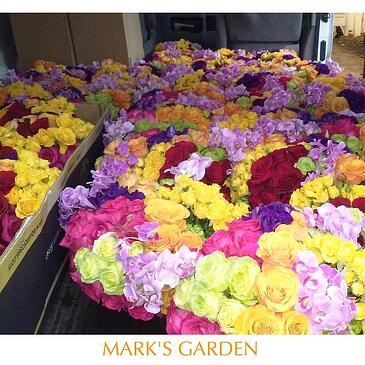 photo credit: Mark's Garden, LA, CA
Blooms consisted mainly of roses whose varieties all contained curled petals that gave off a wonderful, accentuated presentation. Red, yellow, orange and green roses were placed in a ring - like formation forming a rounded mound of beauty.
I love this look but because the pieces are relatively low so that guests can still hobnob with one another without having to stretch their necks around designs that are too bulky and tall.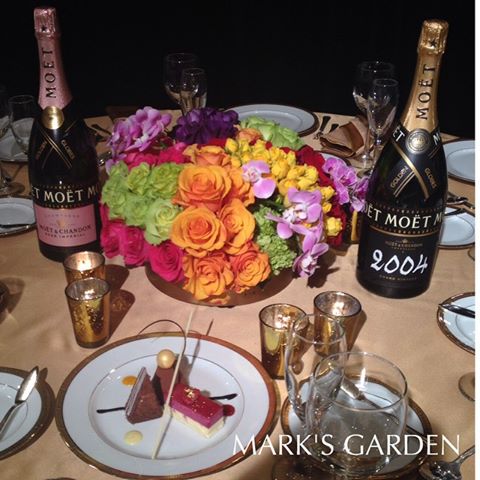 photo credit: Mark's Garden, Los Angeles, CA
Another lovely touch were a few delicate pink orchids protruding from the tight European design. These flowers were a great choice because not only did they allow for an fuss- free presentation, they are also long lasting and tolerable for warm temperatures. The Golden Globe function hall keeps the climate pretty steamy for the actresses who don less fabricated clothing designs so the flowers have to hold their resistance.
Mark's Garden and Floral Designs did a fantastic job, which was truly worthy of the glitz and glamour this event is built upon. I can't wait to see what next years presentation will be!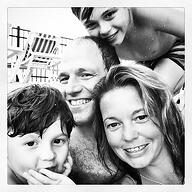 Lance,Rick, Suzie and Ryan Canale Selfie, 2014
Suzie is a movie buff and celebrates Oscar night every year.