You're headed for a beach vacation and you're making a list of must haves to fully enjoy the getaway. Beach pails check! Sunscreen, check! Towels and hats check, check! T-shirts, shorts, underwear, flip flops, check, check, check, check! Now it comes down to the most important thing you must remember for the seashore, bathing suits of course! Now we know you've been working hard all year to whittle down that waistline and eat healthy so now it's time to show off your hard work! After all, you know you'll be taking your annual family photo so you'll want to look your best. Well, as luck would have it, stores are carrying fabulous new lines of swimwear that are flattering for every shape you've been gifted with. Here are a few hints on how to choose the perfect suit right for you and another couple of tips on where to find them.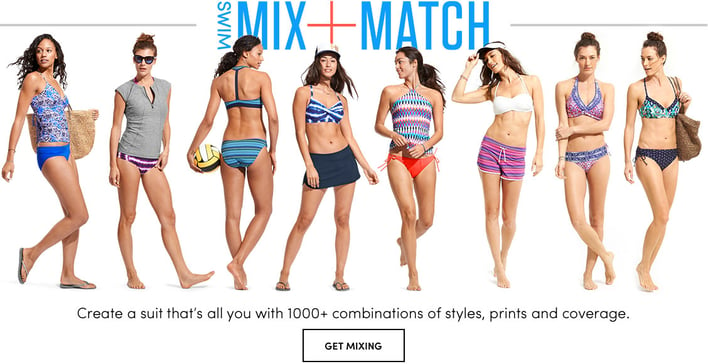 photo credit: athleta.com
Body Type: Short and Curvy with a Well Endowed Bust Line
The possibilities are endless for you if this is the shape you possess because manufacturers are realizing that most women have real curves. Thick straps with bra inserts or underwire are a great option and bottoms with low lengths over hips provide a nice silhouette for voluptuous lines. If your are looking for a bikini, try a crisscross design and if a one piece it was you desire, try solid colors with a thicker fabric for extra support.
Body Type: Tall and Lean with a Petite Bust Line
If this is your category, you're going to want to flock to the string bikini department and look for tops with large patterns or ruffles. Extra fabric designs that extenuate your bust will give a larger illusion. Full piece suits should have a high cut hip line as well as thinner straps over the shoulders. Stay away from strapless though since these are designed more for fuller chest body types.
Body Type: Medium Build with Broad Shoulders
There are women with this body who are frustrated with trying to find the right suit but actually, you have the opportunity to browse some pretty cool and contemporary designs! For one pieces, search for solid with patterns up the side of the rib cage that will draw attention away from the shoulder area and create more of an hourglass appeal. You can also get pretty funky with straps and neck lines by doing crops, triangular or square shaped cut outs. Athletic prototypes are just what you need to show off the strength of your body!
Top Swimsuit Sites
Athleta.com JCrew.com Venus.com Malliamills.com Victoriassecret.com