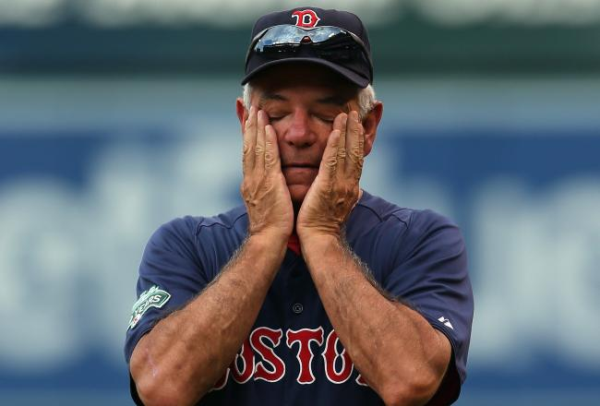 When we think of Valentine's Day in Boston - roses, romance and restaurants come to mind. Valentine's Day in Boston is a celebration of love and also the busiest day of the year for florists too. Yesterday, October 4, 2012 Valentine's Day came early. Red Sox fans paused to briefly celebrate the termination of Bobby Valentine as manager of the Boston Red Sox. Valentine watched over the worst Red Sox record in decades.
The hiring of Valentine never sat well with this Red Sox fan. I knew his ego would never fit in Boston or in the Red Sox clubhouse. More than twenty five years ago I used to collect autographs at the Sheraton Hotel in Boston when visiting teams came to play the Red Sox. There was always a handful of kids and some adults too waiting outside and inside for players to show up and sign. One time when Valentine was managing the Rangers, I got his signature. Thank you Bobby. But he was not exactly friendly about it. When security came to shoe me away, Valentine quickly had to throw in his 'now run along, you're not supposed to be here,'. Dear coach, I was a kid. I knew I was breaking the rules. No need to embarass me. I see why your players felt like you did not know how to speak to them either.
I do find it admirable that Valentine walked out of his firing with his head high and wishing the team the best. But after reading an article by the
Boston Globe's Nick Cafardo
, it all made sense. Valentine has a gag order. He cannot bad mouth the team or his 2.5 millions dollars due in 2013 will be withdrawn for breach of contract. So I ask this, if the North Korea-like Red Sox PR team knew Valentine could not control his words when the contract was written then why even put him in the pressure cooker of Boston sports ?
I wish you the best Bobby. 'Run along now, you're not supposed to be here,'. Valentine's day came early in Boston and this Boston florist is thrilled. The Red Sox lost their last game to the Yankees who scored '14' runs. Valentine was fired '14' hours and '14' minutes after the last pitch of the season. Valentine's Day is February '14' - coincidence ? Maybe or maybe the baseball gods needed a laugh.