Halloween is finally here,
With costumes, masks and treats,
As children run from door to door,
Ghosts and witches fill the streets!
But don't forget the best of all,
The symbol of this night,
Pumpkins carved both big and small,
Glowing their toothy smiles bright!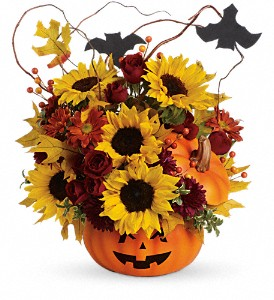 What's that you say? Where should you go?
To find your perfect pick?
Just ask for Sonny, Marie or Rick!
So stop on by to choose your favorites
Of orange, white or green,
Then get your candy bags in hand,
And have a Happy Halloween!
-
Suzie Canale